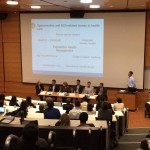 Thank you to everyone who joined us for the Affordable Care Act Panel! We could not have done it without our fantastic panelists:
Gary Schauer  |  Point B Consulting
Paul Unkel  |  Philips Healthcare
Melinda Hewes  |  Group Health
Helen Shawcraw  |  UW Medicine
Hamed Mamani  |  UW Foster School of Business
Walter Winter  |  Parker Smith Feek
Also special thank you to Rick McPherson, the faculty leader and coordinator of the event. We hope that you now have a better understanding of the ACA and its implications for your future and the future of healthcare.