Letter From the Editor
Hello information people!
Welcome to the Year of the Rat! What can we expect in '08? A pivotal presidential election (possibly groundbreaking in terms of race and gender), a new Batman movie, the first Olympics Games held in a Communist nation since 1980, and the return of American Gladiators! But I predict most of this won't affect you too much. Besides having your noses buried in books and laptops, you will be permanently attached to an iPod or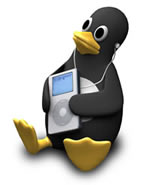 mp3 player and avoiding reality. At least that is Bill O'Reilly's argument - people under the influence of music and portable game players "don't know what day it is; they don't know temperature it is; they don't know what their neighbor looks like. They don't know anything…because they are constantly diverted by a machine." He argues that people are forming bonds with their machines that are just as dangerous as drug and alcohol addictions.
Well, I just want to say that is hogwash. Furthermore, as you continue reading:
Please do not acknowledge your neighbor.
Please avoid eye contact with all carbon-based organisms.
Please keep your attention focused on this screen.
Follow all instructions enclosed in the articles.
Do not take the red pill. Everything you need is right here.
No lie - Silverfish has lots of amazing articles to keep you well-informed and entertained. For starters, we have an interview with the creators of the librarian comic strip "Unshelved" and exclusive reports from InfoCamp and SLA 2007. Co-editor Jack served up reviews of "The Golden Compass" movie and the Watchmen comic book series. There's news on unionization of library workers, a student introduction to the Evan Schools of Public Affairs, and an update from iServe. To finish things off, there's an article on the short history of iSchool athletics.
Of course, the Silverfish staff does not stop working once we publish an issue. Check us out on the blog!
Thanks to everyone who contributed to the DAWN (Domestic Abuse Women's Network) House family drive in December. We received 26 donations, which surpassed last year's total and provided one family with lots of holiday gifts!
Happy New Year!
Jamie Hancock
Co-Editor Silverfish,'07-'08
The Silverfish Blog, Feed & eNewsletter

http://silverfishnewsletter.blogspot.com
http://students.washington.edu/aliss/silverfish