News

What's New With iServe?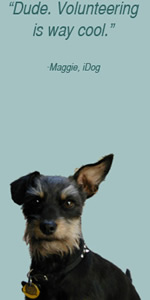 How much do you know about iServe, the iSchool's service group? Simply put, we coordinate projects that all iSchoolers are invited to help with and act as a clearinghouse for finding out about ongoing volunteer opportunities. We feel that this group is a really important part of the school and that volunteerism is not just filler for our portfolios or Curriculum vitae. The work that we do, and the concern that we show for others, goes a long way to helping us become effective and dynamic professionals. It is a great way to learn about the communities, users, patrons, students, and customers that we work among. Like most everyone, you may feel too busy to commit to a volunteer position. There are so many opportunities out there that you are sure to find one that fits both your schedule and personal interest. Check out our website for some ideas!
As you may know, iServe just completed a survey of the iSchool community to find out more about current volunteerism as well as interest in future projects. Thanks all of you that were able to respond! From your answers, we've learned that each month the iSchool community contributes at least 569 hours to various service projects. That's awesome! It was also great to find out about the wide variety of volunteer activities, including work in libraries, coaching sports teams, building websites, acting as board members for nonprofits, helping the homeless, and tutoring youth. Our wide array of interests reflects the great diversity within our school and it seems like our commitment to community service might be our best-kept secret.
iServe is interested in making our group as relevant and welcoming as possible. We are currently discussing ways to provide networking for distance students in terms of volunteer opportunities and special projects. We're planning to paint a bus shelter mural during Winter quarter and invite everyone to lend a hand! Artistic skill is not required, but if there is a secret Bob Ross out there, we'd love some of your help. Watch your email for updates and details about this project!

"Make a career of humanity...and you will make a greater person of yourself, a greater nation of your country, and a finer world to live in."
-Martin Luther King, Jr.