Features


InfoCamp: A First-Year's Perspective
By Cadi Sauve, MLIS Student
Editor's Note: Last year's InfoCamp event represented a terrific first outing for what will hopefully become an ASIS&T institution. You can read all about it planning and inception in our feature article on the event here (insert link). One thing that was a disappointment to the editors of this publication, however, was the dearth of first-year iSchool students who made it out: only two by our count. What gives, kids? To prove that there is nothing to fear, here is first-year student Cadi Sauve sharing her experiences.
- - - - - - - - - -
I was really nervous about going to InfoCamp (October 13-14th), since I'm not the most informed person out there, what with just starting the LIS program and all. But the lure of free food, plus free admission as a student, meant I had nothing at all to lose. In fact, it turned out I had an awful lot to gain!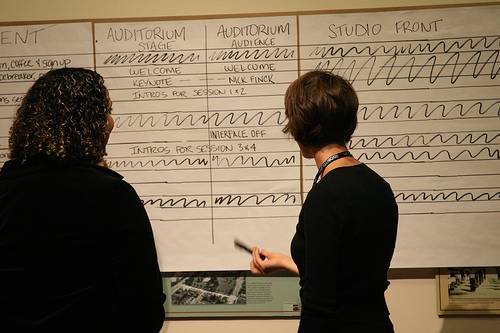 Saturday, I made it through a fog thick as soup to West Seattle in time to drink a couple cups of coffee and eat a couple of donuts before Nick Fink gave the Keynote address. And guess what! I understood it! He spoke about information overload, how information professionals are needed more than ever, and how the iPhone is totally cool. Technology is constantly changing and information is continuously created and sought after: how are we going to make access more user-friendly, especially as devices get smaller and more portable?
From there, I wandered over to a wall covered paper: the empty outline of a schedule. The point of this "un-conference" was for the attendees to participate. There was no set schedule; rather we attendees decided about what we wanted to talk and learn about. As I stood there, the schedule filled up with all sorts of discussions, topics, and help-sessions from the completely confusing (semantic web) to fun (web-based social networking tools) to the "help me work on this concept I haven't fully developed yet."
I participated in conversations, as lectures were noticeably absent: InfoCamp was all about sharing information, gaining new perspectives, and hearing from different voices. There were web-designers, information architects, librarians, students, and many others from a wide variety of backgrounds. I learned about user interfaces; technology and associated anxieties in libraries; tried to wrap my head around a very techie-talk about the semantic web; the use of social software in and by libraries; and thesauri. They even fed me a nice lunch of chow mien, spring rolls, satay, and salad.
The ambiance throughout was relaxed, friendly, and supportive. I made some great connections and had some great conversations. I did feel out of my league at times, but I don't think anyone noticed (too much). And I may have even learned a thing or two in the process.