Letter From the Editor
iPeeps, prepare yourselves—this is the most chock-full-of-content issue we've put out yet. The pièce de resistance is a presentation of job search tips both from MLIS alumni (over 130 professionals responded to our survey, most of whom are employed in academic and public libraries) and social worker-turned-information diva Katie Maynard. The Silverfish would like to send a HUGE and heartfelt thank you to all of the alumni who generously offered advice and encouragement for the job search process.
This issue also features a selection of Directed Fieldwork experiences, an interview with Nancy Pearl (we at the 'Fish can't get enough of her, and expect you feel the same!), and a reflection by Leela Yellesetty about the value of libraries.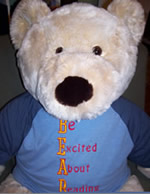 You'll be able to check in with iServe's Books to Prisoners project, hear what happened at the law librarianship panel, and learn about rubbing shoulders with Washington state politicians on Library Legislative Day. You may be mesmerized by the reading/viewing/listening options suggested in virtual displays created by Book Lust students. You'll likely be shocked by at least one of the librarian heresies proposed in the Thoughtful Professional seminar.
Haven't caught the 3:10 to Yuma or The Assassination of Jesse James yet? Find out if these westerns are worth your time from the Silverfish's own Roeper and Ebert (Jamie Hancock and Jack Baur).
Friends, there's so much more to discover in this Spring issue of the 'Fish that I'll just leave you to it now. Enjoy!
Best,
Michelle Wong
Co-Editor Silverfish,'07-'08
The Silverfish Blog, Feed & eNewsletter

http://silverfishnewsletter.blogspot.com
http://students.washington.edu/aliss/silverfish