Features


Silverfish interviews Seattle's most "promiscuous reader," Nancy Pearl
By Michelle Wong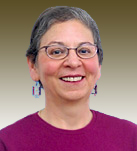 Taking classes (Book Lust 101 and 102) with reader, writer and teacher Nancy Pearl has been one of the highlights of my time at the iSchool. Nancy helps keep the "L" in iSchooL—that is, she is a tremendous advocate for books, reading, and public libraries. Despite a demanding schedule of speaking at library conferences, reviewing books for radio station KUOW, modeling for posters and action figure, and reading promiscuously ("I'll read anything, anytime, and with anyone"1), Nancy agreed to meet over hot beverages at the University of Washington Bookstore (which hosts her Book Lust television interviews for the Seattle Channel).
(Please note that without an audio recorder, I resorted to note-taking and so am paraphrasing here. Also, please accept the random order of my questions!)
Silverfish (hereafter referred to as 'Fish): So, how did you become Nancy Pearl?
Nancy Pearl (hereafter referred to as NP): Well, I was fortunate in the people I worked with and for. Also, since I was 10 years old I knew that I wanted to work in libraries. I've also worked in bookstores (I think all aspiring public librarians should do a stint in independent bookstores), which gave me a different perspective because I got immersed more in the publishing world. I learned what makes people enthusiastic about books, and how to persuade them to read them. I listened to people talking about books they liked, and learned to make suggestions based on what individuals liked about certain books, instead of based purely on the books themselves. I didn't overthink things, but started making snap connections to other stories.
'Fish: You mentioned that you have a lot to say since your last interview with the Silverfish (October 2006)…what is it you'd like to tell people?
NP: If I had the time, I'd like to go on a crusade to urge our society to decide if we'd like to raise kids who love to read, or to force our kids to slog through books they're not ready for (e.g. a fifteen year old boy might be bored out of his mind reading Moby Dick, though he might appreciate it years later). I'd also want to help validate children and teens' reading. Finally, I'd like to arrange libraries more logically.
'Fish: Nancy, this past quarter I believe your class filled up within five minutes. Are there any readers advisory tips you'd like to offer students who wanted to take your class but couldn't?
NP: First, it's not about you—it's about the other person. Second, set up a personal reading program so that you read more widely. Third, expand readers' horizons—it's okay to stretch people's comfort zones by suggesting something that makes sense based on their preferences, yet lets them try something new that they might not have chosen otherwise.
'Fish: You advise thousands of readers through your speaking appearances, books such as Book Lust, and online and radio reviews. But who advises you?
NP: I like to visit independent bookstores and ask what people are reading. I also talk to other librarians and get recommendations via e-mail from readers.
'Fish: Have you ever considered writing a book called Book Loathing, which lists the books you've tried or read and couldn't stand?
NP: No, because I think that whether one likes a book depends on one's mood. Also, I don't think it helps anyone to focus on bad books when there are so many good books out there!
'Fish: Given the enormous number of books that must flood your apartment, are there any that you consider worthy to re-read?
NP: I love "gentle reads," older writers from the 1950s and 1960s (e.g. Elizabeth Cadell), and other books that I find comforting. I like D.E. Stevenson, a British writer, because her works are perfect for escaping and I know them by heart. They're sweet, but not cloying. Other favorite titles are Cold Comfort Farm by Stella Gibbons, I Capture the Castle by Dodie Smith, Wise Children by Angela Carter, and Nerve by Dick Francis.
'Fish: You founded the program "If All Seattle Read the Same Book" (now called "Seattle Reads"). What if there was an expanded program called "If All the World Read the Same Book"—what book(s) would you select?
NP: I don't think there is a book that would connect to people from all over the world…except perhaps Persepolis by Marjane Satrapi because it deals with political and social issues that are very relevant on an international level. There's also Love Thy Neighbor: A Story of War by Peter Maass which discusses the Bosnian conflict.
'Fish: Many youth-oriented iSchoolers are clamoring for a Book Crush course. Have you considered offering one?
NP: I'm not sure if there is a need for this because there are children's literature classes already in the curriculum. Also, readers advisory work with youth tends to be simple because story is a big doorway2 for children.
'Fish: You urge public librarians to advocate for readers advisory services. How would you recommend doing so?
NP: You have to discuss as a library what is most important to you: providing information, building community, or connecting people with good books.
'Fish: How do you keep your sense of humor (as demonstrated by your action figure with shushing movement)?
NP: I don't take myself seriously, but I do take my work seriously.
'Fish: How has your life been enriched by reading?
NP: I've gone on adventures that I would never have had the nerve to do in reality, such as climbing Mount Everest (as described in Into Thin Air by Jon Krakauer). I've met people and learned much about history through books.
'Fish: What would your six-word autobiography be?
NP: "Have read, will read, live sometimes."
'Fish: If you were forbidden to be a librarian, what alternative career would you pick?
NP: Anthropologist or adventurous eater.
'Fish: Why do you think Seattle is such a literary city?
NP: Some people say it's because of the rain which gives us time to be introspective, but I also think we are fortunate in having a well-educated populace and good independent bookstores.
'Fish: What books have made you cry and laugh the most?
NP: Not many books make me cry, but The Lions of Al-Rassan by Guy Gavriel Kay and The End of the World as We Know It: Scenes from a Life by Robert Goolrick both did. Books that made me laugh include A Girl Named Zippy by Haven Kimmel, anything by Terry Pratchett, The Bear Went Over the Mountain by William Kotzwinkle, and Gimme Cracked Corn and I Will Share by Kevin O'Malley.
'Fish: Many of my peers are starting to have children, and I'm wondering what books you would recommend giving to babies.
NP: Make Way for Ducklings by Robert McCloskey, most Caldecott award winners, Knuffle Bunny by Mo Willems, Gimme Cracked Corn and I Will Share by Kevin O'Malley (mentioned earlier), Glass Slipper, Gold Sandal: A Worldwide Cinderella by Paul Fleischman and Julie Paschkis.
'Fish: Thank you, Nancy! I must confess that toward the end I was making up more questions because I love talking with you.
------------------------------------
1 Nancy credits author Carrie Brown of Hollands College with this quotation.
2 Nancy says there are four major doorways by which adults enter stories: story, character, setting, and language. Books like The Da Vinci Code and other bestsellers have strong story doorways. Award winners often have strong language doorways (e.g. Interpreter of Maladies by Jhumpa Lahiri).