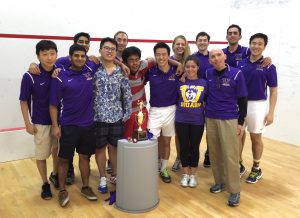 The University of Washington squash team is an active and competitive club team part of the College Squash Association.
We currently have 11 players on our travel team and are always looking for new members. While we are a club team, we play both varsity and club teams across the country. The UW team travels three times a year for round robin style matches against other schools. We travel twice to the east coast, once to the Naval Academy in Annapolis in November and once for the national championships, which vary in location. In addition, we travel to Stanford University to compete against other west coast teams.
We have official practices twice a week but most members of the team play 2-3 times more per week outside of practice. In addition, all players on the team compete in the local Seattle city-league.
We welcome players of all skill levels, especially those who have played some racket sport before. If you are interested in joining, please contact:
Andrew Kim (Captain): akandrew@uw.edu
Malcolm Daigle (Captain): daiglemalcolm@gmail.com
Michael Bishop (Faculty Advisor): bish@uw.edu