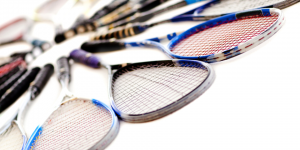 Forbes Magazine (Oct 2003) rated Squash the #1 healthiest sport in the world!
If you play squash, you know why.  If you've never played, then it's time you try!
In 2003, Jason Harris-Boundy and Sushant Jain created the Squash Club at UW to:
Promote the sport,
Create community among players
Enhance sports skills and fitness
Develop and support an undergraduate team
Have fun
Since it began, over 150 people have played 1000+ matches in the club's squash leagues!
Club Activities
The Squash Club offers a variety of activities, whether for the complete beginner
who's never heard of the game or for the highly competitive player.  These include:
Box-ladder leagues, grouping players of similar skill
Regular skills workshops, coached by top local instructors
Occasional tournaments and activities
Participation in the local SSRA league, matches with other local teams
Development & support of an undergrad team for intercollegiate competition
Club Membership
Come be part of one of UW's newest club sports!  All current UW students and
faculty/staff members may join the Squash Club.  Faculty/staff members, however,
must also have a current IMA membership prior to participation, which can be
purchased at the member services desk during normal IMA hours.
The general public, UW alumni, UW extension, branch campus and experimental
college students are not eligible to be active members in the club sports program,
but can still play an important role in developing the squash program at UW.
Join the Squash Club at UW
Currently, there is NO club membership fee! In addition, the IMA has rackets and balls available to rent for anyone with a UW ID, so anyone can come down and start playing.