As the dog-days of summer approach, members of the UW Squash team are starting to prepare for the season ahead of us. We feel both apprehension and excitement as we await the big reunion, of which will be full of new and returning players. Clarence Ong is amongst the players that we are lucky to welcome to the family. Clarence, an experienced player(ranked as high as 16 in his age group) and fellow California native, has an impressive rank on US Squash, and will be a competitor for one of the top two spots on the team! Another incoming recruit, Micah Adams, a rising sophomore, previously played for Millbrook School and will be competing for a spot in the top 9. However excited we are for new recruits, we will be missing our fearless leader, Jai Padmakumar, who is now pursuing bigger and better things at graduate school at MIT!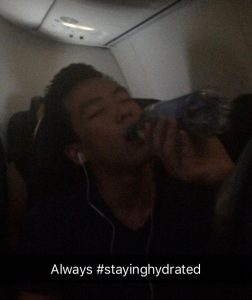 Despite loosing Jai(seated #3 on our lineup), Clarence and Micah will make a great addition to our top players and we are ready to have a great season, climb up the ranks for nationals, and get back to our usual shenanigans!
Stay tuned on our Facebook page and website for more updates on the start of our season and upcoming practices, matches, and tournaments!