Letter From the Editor...
Hail, Information People!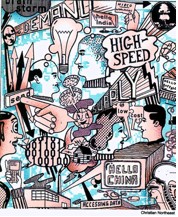 Congrats Grads!!
Hello summer, and adios grads! This is it, the last Silverfish of the '06-'07 school year. Where to start? Browse or read in a highly controlled (vocabulary) manner, it's all bueno. A few ideas: the featured interview with iSchool grad Jessamyn West who writes the blog Librarian.net, which gets about 7,000 visitors a day; stories about gambling online (apparently it's illegal—who knew?), Cambodian libraries, public libraries in India, a couple of essays from alums, book and music reviews, summer book reads, web site suggestions (see the next graph for starters) and all sorts of other writey stuff. Also in this edition, meet Jack, Nancy, Jamie & Michelle, the new 'fish staff for the 2007-2008 school year with tell-all bios and pics (Many, many thanks to Nancy for the generous volunteerism in pulling this edition together. It wouldn't have happened without her).
Over at the information blog When Cars Run on Information, creators, contributors and soon-to-be-iSchool MLIS grads Tim King and Kathleen Walsh post on "innovation, community and libraries." Add it to your blog roll.
Thanks to the past year's contributors and the crack 'fish staff, marketing maven Sheri Boggs and webmaster Amy Vecchione. It was a productive year for the 'fish. We created a new tradition last December at the iSchool, sponsoring the DAWN (Domestic Abuse Women's Network) Adopt-a-Family program, which provides holiday gifts for women and children living in emergency shelter due to domestic violence. Among other things, in 2006 DAWN answered more than 12,000 crisis calls, provided more than 20,000 meals and sheltered more than 370 women and children…We also launched

The Silverfish blog, slashing the wait time between you and your iNews to practically nil. (Well, maybe a wee bit more than nil, but we don't pussyfoot around when it comes to your need for instant gratification.)
While this is the end of the line for this year's staff, the new kids are already collecting and posting stories on the 'fish blog, including such details as the swank factor at IFLA (International Federation of Library Associations and Institutions) and trotting librarians for justice at the Law Librarianship Panel, and we've added those to this web site edition. (Email them with ideas/stories for the 'fish--web site or blog: thesilverfish@gmail.com)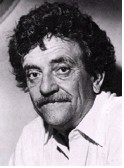 While we're at it, we also say good-bye to Kurt Vonnegut, Jr., who died April 11 from brain injuries related to a fall. He most famously wrote Breakfast of Champions (1973) and Slaughterhouse Five (1969; movie version 1972). From NNDB.com: "Common themes in Vonnegut's work include the dehumanization wrought by technology, as well as by bureaucracy and media indoctrination." When he died, I had recently started reading God Bless You, Mr. Rosewater, and the book was my late night reprieve from the daily slog through research journal articles. In his stories, his take on humanity—dusted with black humor, politics, science fiction, surrealism and a universal 'be kind' philosophy—often emerges in characters who are regular schmucks just trying to get by. From God Bless You, Mr. Rosewater:
"Hello, babies. Welcome to Earth. It's hot in the summer and cold in the winter. It's round and wet and crowded. At the outside, babies, you've got about a hundred years here. There's only one rule that I know of, babies — 'God damn it, you've got to be kind.' "
~ Kurt Vonnegut, Jr. 1922-1977 ~
With that, I bid you adieu, cheers and many thanks,
Joyce Hansen
Editor Silverfish,'06-'07
The Silverfish Blog, Feed & eNewsletter

http://silverfishnewsletter.blogspot.com
http://students.washington.edu/aliss/silverfish