MLISer Serves in Cambodia / Rebuilding Libraries After Khmer Rouge Devastation
By Kara Fox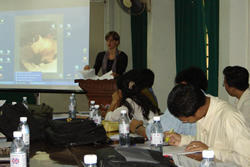 Kara Fox presents -- Cambodia database training
Last summer I interned at both a university library and research library in Phnom Penh, Cambodia. I worked on a project to increase the awareness and use of free online scholarly journal databases, primarily HINARI, AGORA, and Highwire Press, within Cambodia's research community.

My going to Cambodia was mostly due to happenstance. My boyfriend is a law student and was traveling there to intern at a law firm. I decided I'd look into opportunities in the LIS field. The iSchool was in the process of accepting Wanna Net, who is now a first-year MLIS student from Cambodia. Marie Potter, Academic Advisor, got in touch with him due to my interest, and he put me in touch with the library movers and shakers.

Cambodia is a beautiful country on the SE Asian peninsula with Laos to its North, Vietnam to its East, Thailand to its West, and the Gulf of Thailand on its southern border. The Mekong River, with its origins in China, extends through its interior, while the Tonlé Sap Lake provides a fertile basin of great resource and significance. The ancient temples and former stronghold of the entire region, Angkor Wat, enrich Cambodia's north and the vibrant city of Phnom Penh teems with life in the south.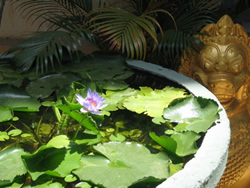 Water lilies at royal palace cambodia.
Visitors to the country come from far and wide and are met with Cambodian openness, generosity and friendship. The history of the Khmer Rouge, which killed up to a third of the population in the 1970s, still haunts the fabric of this great country, and indeed its library and educational systems. I learned as much about humanity and perseverance as I did libraries during my two months in Cambodia, and came to also understand their interrelationship. The Khmer Rouge targeted and killed most educated Cambodians, including librarians, teachers, doctors, etc.; thus, the rebuilding of library systems in Cambodia is a formidable undertaking.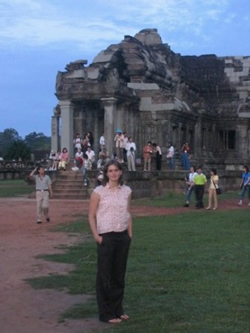 Kara in front of library at Angkor Wat
Australian Margaret Bywater, my sharp and savvy supervisor who has worked for nearly 20 years to help develop Cambodia's library systems, warmly welcomed me at Phnom Penh's airport. (She's amazing. Here's a great paper she wrote awhile back on re-building Cambodian libraries: http://www.ifla.org/V/iflaj/jour2404.pdf.) Without delay she introduced me to the staff at the Royal University of Phnom Penh's Hun Sen Library, as well as the Cambodia Development Resource Institute's Library. I then began my project with the online scholarly databases in these two libraries, as well as the National Library, government ministry libraries, universities, and other research centers. I worked to understand the value Cambodians saw in these resources in order to provide relevant training to support and enhance their research. This was a fulfilling two months I will never forget.


Kara Fox is a second-year Master of Library and Information Science (MLIS) student at the University of Washington and a graduate research assistant at the Bill & Melinda Gates Foundation. As a MLIS student, Kara is interested in the changing roles and impact of public libraries in the U.S. and abroad. At the Gates Foundation, Kara supports research and evaluation services of the Global Libraries initiative to increase free, public access to information and communications technology through public libraries in the developing world. Kara holds a degree in Anthropology and is committed to public services and social change. She believes that the library should be the most effective information broker in and for its community.