On January 21, 2017, several groups of students from the Chemistry department and WCS participated in the Women's March to support women and their human rights. Rachel Boccamazzo, a senior biochemistry and biology undergraduate, provided an image, showing a small sample of the amount of individuals who were present on Jackson street.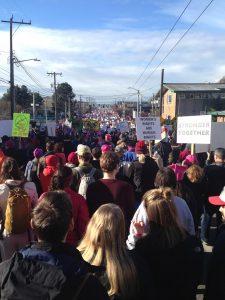 View from Jackson street towards downtown
The large population represents a common feeling among many women across the nation. Lizzy Canarie, a first year Chemistry PhD student, clearly described that the Women's March "gave me hope in a time of anxiety and negativity." These feelings are common during an uncertain time like this. Being able to openly express those feelings is important, and participating in the Women's March is a good way to do so. Other opportunities include 10 actions in 100 days and March for Science. Women's March started a campaign called 10 actions in 100 days. 
Every 10 days, they suggest an action to voice your opinion. If you would like more details, this link will lead you to their website: 
https://www.womensmarch.com/100/action2/
 . T
he March for Science will be held April 22, 2017, and more details are to be followed. 
These are just a few ways in which we can voice our passions and rights as a woman and scientist.