Features


Conferencing Made Easy
by Heather Schmidt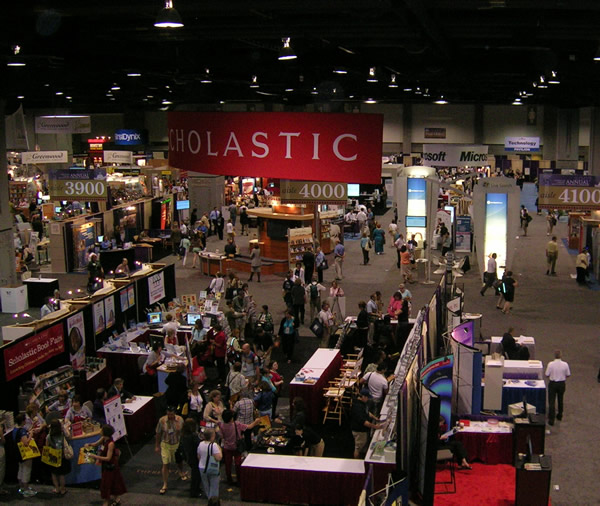 ALA 2007 conference exhibits
(photo courtesy of Wanna Net)
In our globally-connected-socially-networked world, where it seems that face-to-face interaction is becoming less and less of a necessity, there exists an anomaly known as the conference. Conferences look great on CV's and scholarship applications, they provide us with loads of inspiration and ideas that we can take back to work, and they provide us with human contact and social interaction –basic necessities for survival! So here I have prepared for you, a survival guide to conferencing. Partially adapted from ALA Conference tips (ala.org).
If it's your first conference, find/meet an experienced librarian at the conference and see if you can tag along with them for a while.
Volunteer at the conference, if you are shy it's a great excuse to have to talk with people. Plus, the organizers might knock off some (or all) of your conference fee.
Check to see if there is a student rate for the conferences.
Make some time to go to the exhibits.
Bring a backpack for all the free goodies, but…
Don't take everything just because it's free. If you don't think you or your friends could use it, don't pick it up. You'll regret it later when you're lugging around a heavy bag.
Bring business cards if you have them. You will meet a lot of people and networking is the best part of conferencing. It's also helpful to have address labels so you don't have to write it down every time you sign up on a vendor list.
Take notes at the sessions you attend. Be sure to bring paper and a pen.
Accept that you can't do everything, so don't plan on attending sessions from 8am until 8pm every day. Some of the best experiences happen when you're just hanging out with fellow librarians.
Double-check your meeting locations and times. Sometimes the locations and times of meetings can change at the last minute.
Wear your badge on the bus to the conference to help people strike up conversations.
Bring or buy some sort of snack food for the conference. It's easy to get so busy that you won't have time to eat, or when you finally do have time, you won't be able to find any place reasonable. Bring a box of granola bars and a water bottle, just in case.
Be sure to attend Orientation if this is your first conference! It's a great chance to get more tips on the conference, meet other librarians, get a free bag, and have a chance at some great door prizes.
Don't be shy: meals, breaks, hanging out at the Conference Center. Chat folks up! Librarians are a friendly bunch and you can exchange tips, ideas and get insights.
Upcoming Seattle-area conferences you might be interested in:
June 15 – 18, Seattle
SLA (Special Libraries Association)
Annual Conference
http://www.sla.org/content/Events/index.cfm
August 4 – 6, Seattle
ARL (Association of Research Libraries)
Library Assessment Conference (at UW!)
Registration is closed but they WILL be needing volunteers!!! More info to come…
http://www.arl.org/news/pr/lac-proposals-2oct07.shtml
October 2-4, Olympia
WALE (Washington Association of Library Employees)
Annual Conference
http://www.wla.org/igs/wale/conferences.html
October 9 – 11, Seattle
2008 International Reading Association Conference
http://www.reading.org/association/meetings/regional.html
March 12 – 15, 2009, Seattle
ACRL (Association of College & Research Libraries)
14th National Conference: Pushing the Edge: Explore, Extend, Engage
http://www.ala.org/ala/acrl/acrlevents/seattle/seattle.cfm
June 27, 2008
Vol. XII Issue 4




What's the iSchool reading for the summer?

Nancy Pearl: Searching for Caleb, Cryptonomicon
Trent Hill: The Donut: A Canadian History, Tunesmith
Stuart Sutton: Animal, Vegetable, Miracle: A Year of Food Life
Mike Crandall: Annals of the Former World, I See a Voice
Joe Janes: The Man Who Made ListsSee more....







All photos by Jill Hardy

See the whole gallery