Your Guide to Student Groups
Compiled by Jamie Hancock, MLIS
Contrary to what Silverfish officers might say in public, the 'fish newsletter and blog are not the only ways to get involved in the iSchool community. We may try to win you over with beer and gifts, but the truth is: there are other organizations out there trying to win you over with beer and gifts (and they are better funded). More importantly, these student groups present opportunities to connect with future employers, get hands-on experience in various fields, learn about important issues facing information professionals, and serve the community through volunteering. Throughout the year, you can look on the 'fish calendar for events hosted by iSchool student organizations. It's a great way to meet people with similar interests or discover new passions, like book preservation or setting up RSS feeds.
So what do all these acronyms mean? Here is a rundown of seven groups you can get involved with (as prepared by the officers of each group):
*For a complete list of all student organizations affiliated with the iSchool, please see https://www.ischool.washington.edu/people/organizations.aspx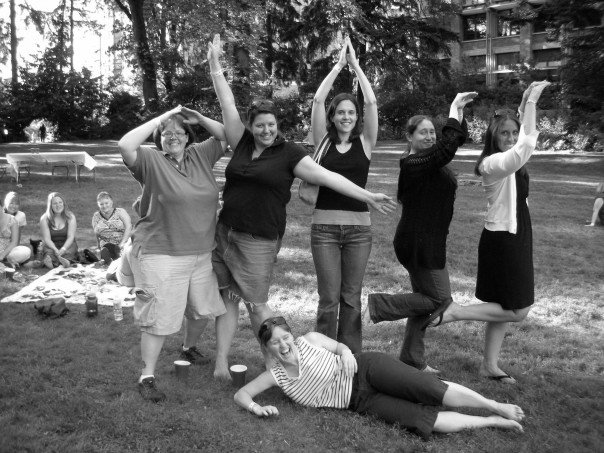 ALISS members: Kristen Dietiker, Kathleen Loebig, Meghan Madonna, Michelle Hudson, Beth Sanderson, Destinee Sutton
ALISS is the official student organization for Library & Information Science students at the University of Washington. All students admitted to the Master of Library & Information Science program (distance and day) are automatically members. ALISS holds open meetings throughout the year to share ideas, concerns, and feedback about the MLIS program. ALISS officers serve as a channel for communication between students, faculty, and administration. ALISS also sponsors events to provide opportunities for social, cultural, and professional activities, such as the ALISS Book Sale and the Spring Fling.
http://students.washington.edu/aliss/
---
Seeing old things and learning how to archive and preserve those items for someone else to enjoy is always more fun with others! Recently chartered by the Society of American Archivists (SAA), the Archives and Preservation Club (APC) organizes a variety of activities throughout the year to promote awareness and discussion of archives and preservation issues, while creating networks between students and professionals.
Fun-filled activities scheduled for fall quarter include a tour of the Museum of Flight archives, a panel discussion on digital archives, and a happy hour with the Seattle Area Archivists. Past activities include a tour of the downtown Seattle municipal archives, discussions of modern book arts, and a discussion on audio preservation. Ideas are always accepted for new and exciting places to visit and archives and preservation topics to discuss.
To become a member of APC, or to know more about how much fun we are having, sign up for the archivists listserv. Check out our website for more information and email us if you would like to become a First Year Representative!
http://students.washington.edu/archpres
Email APC
---
The American Society for Information Science and Technology (ASIS&T) is a national cross-disciplinary organization for information professionals. It provides a communication link between research and practice in information management, librarianship, education, computer science, and every field that creates, stores, disseminates, accesses, and uses information. The organization focuses on a multitude of disciplines, including Information Retrieval, Information Architecture, Usability, Knowledge Management, Human-Computer Interaction, and Digital Libraries.
The UW student chapter of ASIS&T is committed to being a source of support for all iSchool students and programs. They are dedicated to strengthening our student community by organizing further learning experiences through guest lecturers and workshops on current and provocative topics, fostering collaborative relationships for fellow students, providing venues to present student research, projects and ideas, creating outlets for interacting with industry professionals, and opportunities for school and career guidance.
Please visit the ASIS&T UW website for more information on upcoming events, announcements, and other ways ASIS&T can enrich your iSchool experience.
If you have any questions about ASIS&T, ideas that you wish to contribute to the ASIS&T community, or suggestions about a venue for presenting current research or discussing interesting topics, don't hesitate to send an email.
http://students.washington.edu/asis/
E-mail ASIS&T
---
iServe is the iSchool's volunteer organization. Our basic aim is to improve our community through service. We believe that through direct service, information professionals and students can help break down barriers to information access, while enriching their own academic and professional lives. We encompass both professional development and fun by organizing quarterly group projects and publicizing ongoing individual opportunities throughout the year. Past group activities have included: helping with the Seattle Public Library's Lemony Snicket event in 2006, selecting books at Books to Prisoners, and sorting books and helping with mailings to support PageAhead, an organization that distributes books to children in need. Ongoing individual projects having included activities at KCLS, SPL, Seattle Art Museum, elementary schools, and more. If you're interested, get involved by checking out our booth at the iSchool Orientation Fair, showing up at a group event, or joining our listserv. While you're at it, take a look at our revamped website for more information.
http://students.washington.edu/iserveuw/
E-Mail iServe
---
IUGA is the Informatics Undergraduate Association. Our mission is to provide Informatics majors with a voice in iSchool and Informatics program affairs, and to plan professional development and entertainment events. During the 2007-2008 academic we plan to host several employer information sessions, panels for career development, a ski trip to Whistler, on-campus LAN parties, and much more. Membership is free and only available to Informatics majors. If you join IUGA now, you can receive news about upcoming events through our mailing list. Email us or visit our website to become a member today!
http://iuga.ischool.washington.edu/
E-Mail IUGA
---
As the student chapter of the American Library Association (ALA), SALA seeks to facilitate student participation in a wider professional community and to raise awareness of national issues facing the field of library and information science. We encourage all students to become active members and take advantage of the many publications, promotional materials, scholarships, and conferences it provides. Locally, we seek to provide a forum for the exchange of ideas and information regarding trends, issues, and opportunities in the profession. In past years, SALA has sought to promote these goals by sending representatives to the ALA National Convention, visiting other Library and Information Science programs, hosting panel discussions with visiting information professionals, and organizing tours of local libraries. There is no official membership to SALA and all students are welcome to participate in our activities. If you have any questions or are interested in becoming more involved in SALA please visit our website or feel free to contact Bethany Klassen.
http://students.washington.edu/sala/
---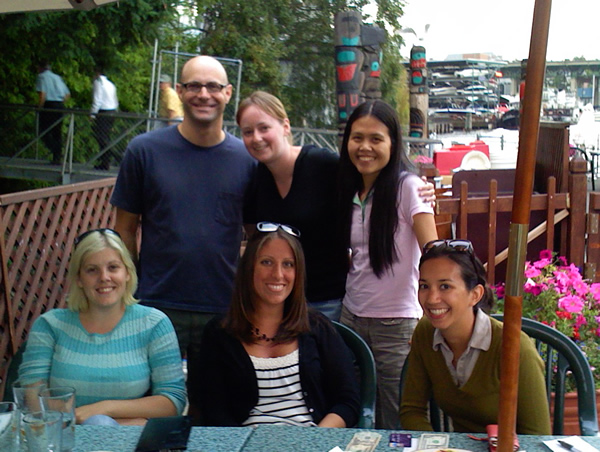 SLA members: Alex Bertea, Rebecca Blakewood, Le Tran, Mary Beth Simiele, Beth Sanderson, Juleah Swanson
The Special Libraries Association at UW is a student chapter of the Special Library Association. As a student group, we seek to expose Information School students to careers in special libraries and the information industry in general. SLA-UW facilitates communication between students and professionals while having fun in the process! Our events and resources enable students to network within the Special Libraries' community, giving us the opportunity to find mentors, build our professional contacts and get jobs!
Past events have included hosted talks by special librarians, tours of special libraries in the area, and professional and student dinners. Visit our webpage to get information on events, meetings, memberships and scholarships!
http://students.washington.edu/slauw/
E-mail SLA
Upcoming SLA event:
SLA UW Student Chapter Networking Happy Hour

What: Meet students, alumni, and professionals with a common interest in Special
Libraries

Where: Ivar's Salmon House (Lounge) 401 NE Northlake Way Seattle, WA

When: Friday September 28th 5-7PM (Happy hour prices are good from 3:30-6:30)