Finding Decent Work in Geneva
By Scott Dalessandro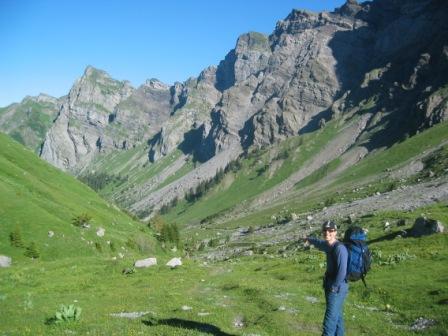 Searching the Alps for cows, or remnants of cheese.
Will Smith and DJ Jazzy Jeff were on to something with an early 90s hit: "Summer, summer, summertime, time to sit back and unwind." Inspired by this "groove slightly transformed," I took a break from the norm by doing an internship in Geneva, Switzerland this past summer.
To break the monotony of all that hardcore LIS coursework, I thought it would be interesting to get some experience working in an international organization. After contacting a few libraries and talking with the MLIS academic advisor, I arranged to spend three months interning at the International Labour Organization (ILO), whose main goal is to promote "decent work for all."
During my time there, one of my tasks was to create an online subject guide on youth employment. Working with ILO library staff and consulting with technical specialists from within the organization, I got a pretty good perspective on the varied work of United Nations librarians. One of the more interesting challenges was creating something for a wide variety of users, including ILO staff, researchers around the world, national labor ministries, and anybody else who might be interested in the subject. I also enjoyed putting my language skills to use, working in English, French, and Spanish. Best of all, I was paid!
There was still plenty of time to sit back and unwind. Living not far from Lake Geneva, it was fun to stroll up and down the rive droite, watching people riding around in their jeeps and their benzos. I don't remember too many people in Nissans sitting on lorenzos, but there was plenty of opulence ranging from Maseratis to fancy watches to antique cuckoo clocks.
Some other fun things included a free international music festival, the cow milking contest at the mall (complete with milk bar, butter sampling and sculptures), really big mountains, consuming more dairy than should be allowed (including a soft drink made from whey), and of course, good chocolate. I also had a chance to travel a bit, making stops at the Bodleian library in Oxford and the British Library in London.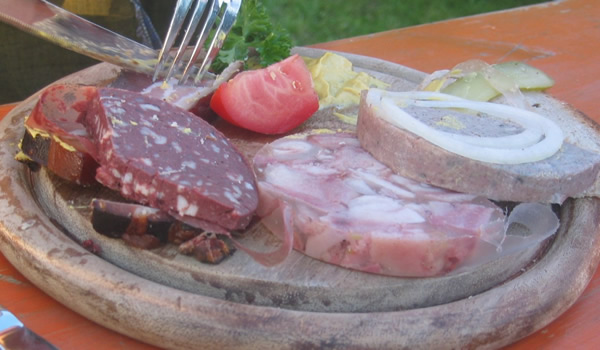 Blutwurst, unknown meat, and leberwurst.
The one thing that I wouldn't do again is order a 'vesperplat' from a German village festival. Liverwurst, blood sausage, and smoked bacon aren't so bad, but the head cheese was tough to wash down, even with good beer. Now that's my new definition of summer madness.