iSight Film Festival warmly received; Winning film goes viral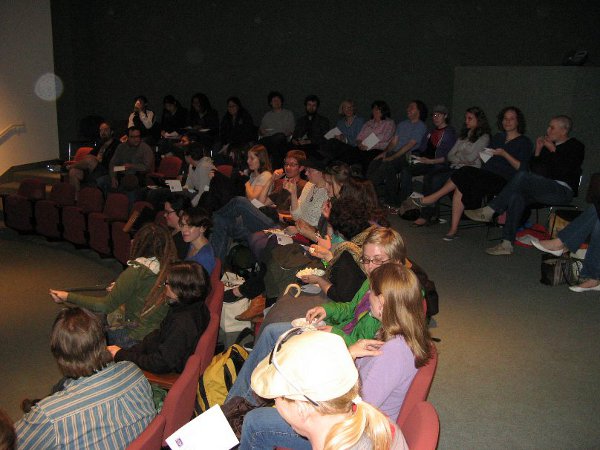 photo caption: The iSight Film Festival screening attracted an enthusiastic crowd.
"I want to say thank you to all of the very, very goofy people with MLISs who took the time to help me with my movie," Sarah Wachter said as she accepted the prize for "iSpirit" (best school spirit) for her film This is My Information Detector. The film would go on to win the "Audience Choice" award that evening and was featured as "viral video of the day" on KING 5's facebook page the next morning. From there, the video rapidly spread across the internet.
Wachter's musical video parody features vocals by Laura Mielenhausen and the participation of a large cast of iSchool students and professors.
"Best picture" and "Best screenplay" were awarded to Your Map Collection: A World of Maps of the World, a light-hearted film about the staff and services of the UW libraries map department in the style of a mid-century educational film. Filmmaker Joshua Walker created Your Map Collection while he was a student employee in the map department five years ago.
"My time at the map collection was what got me into libraries in the first place. I never considered an MLIS degree until I worked as a student there," said Walker. "Some of the best times of my life were with those folks." In the time since the film was created the UW Libraries Map collection has ceased to exist as an independent department and Anne Zald, the librarian featured in the film, has moved on to UNLV. "Things really change in a short period of time. It shows you, I guess, how much libraries are evolving," commented Walker. "I just hope we can do more of these things, right here, because this is my favorite thing: making movies and libraries!"
The "iLove short shorts" award went to Explain IA Summit 2010. The piece combined images from an information architecture conference with music, graphics, and text, to create a fast-paced karaoke video experience.
The "iOpener" award for best film about social or political issues was awarded to YOUth: A Capstone Project by Sarah Wang, Zakiya Qadir, and Tara Tarjoto. The piece cleverly used paper cut outs to explain the process of designing an information system to organize and share youth-created digital stories that address racism and other issues.
If an award had been given for "best costumes," How to Love Your Cat Well" would certainly have won the prize. Though some in the audience complained of nausea during the catnip sequence, the film was an entertaining assemblage of feline stunts and masked humans, revealing the beauty of cats and their people.
"Best scholarly use of Animal House" might have been awarded to Learn to Computer: Critically Evaluating Online Instruction in Higher Education, which compared research on distance learning programs and combined a variety of sampled film clips, all properly cited, of course.
Allen Auditorium was nearly filled to capacity for the iSight Film Festival Screening on May 27th. The festival was organized by iArts and iWrite student clubs. The iSchool provided generous prizes for winning films and Nell Carden Grey, Ricardo Gomez, Joe Janes, Emily Keller, and Michael Mungin judged the submitted work.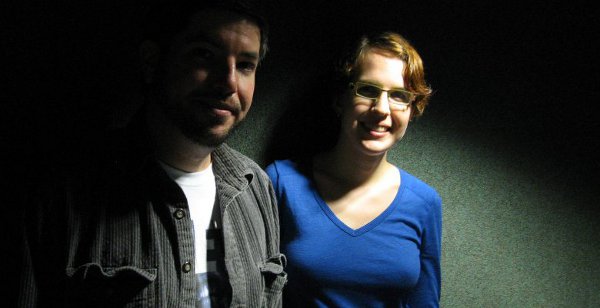 photo caption: Michael (Explain IA Summit 2010) Adcock and Sarah (This is My Information Detector) Wachter bask in the glow of victory!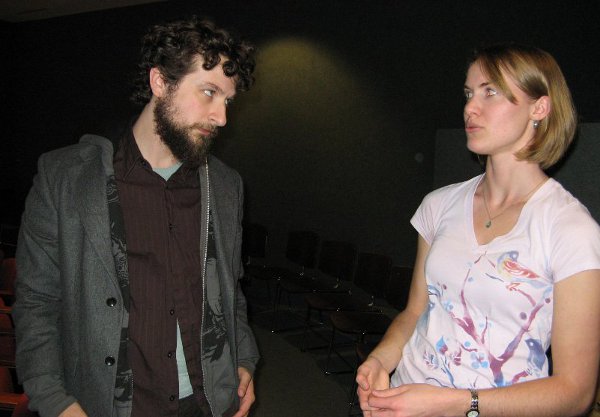 Joshua (Your Map Collection: A World of Maps of the World) Walker discusses cinema with iArts chair Kylie Fullmer.