Library Development Around the Globe
I spent four weeks this past August in Ethiopia, volunteering with Ethiopia Reads, a nonprofit library-development program. Their mission is to create a reading culture in Ethiopia by connecting children with books. By developing libraries for children, the group was helping to create culturally appropriate reading materials and train educators to nurture a love of books. This was something I wanted to support, so I contacted the founder, Ato Yohannes Gebregeorgis, and asked if I could volunteer with his organization in Ethiopia.
Yohannes told me that Ethiopia Reads would love to have me volunteer, and they worked to match their needs to my skills and expertise. Having worked in public libraries and completed my first year at the iSchool, Yohannes felt that I would be a valuable addition to the school-librarian training team.
Yohannes, an Ethiopian political refugee, had been living in the United States for decades, working as a children's librarian, when he decided to return home and make a difference in his country of origin. He packed 10,000 books and took them back to Ethiopia, where he opened a children's library at his home.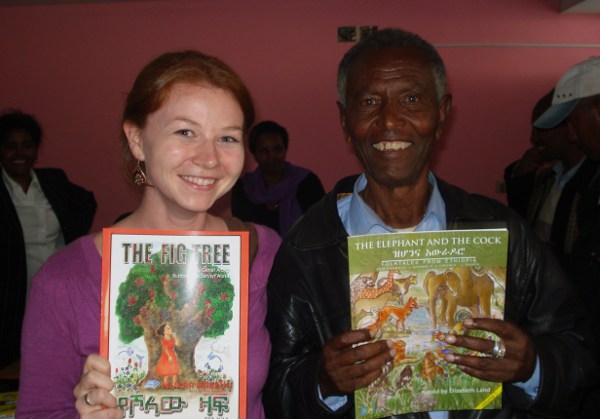 Rachel and a trainee hold up children's books published by Ethiopia Reads
Since then, the organization has expanded its reach. Ethiopia Reads has opened two public libraries and approximately 40 school libraries throughout the country. In the U.S., to work as a school librarian one must have training both in education and librarianship; in Ethiopia, such opportunities are not available. Schools, hoping to provide libraries for students, are frequently forced to appoint unqualified staff members to oversee collections and their use. Such staff members may have training as educators, or they may not. It is just as likely that the individual had previously worked in secretarial, janitorial or similar services.
Ethiopia Reads quickly developed a training program for new school librarians. This is where my involvement came in. In collaboration with Gebregeorgis, Ato Masresha Kibret, Awassa Rural Library and Literacy Development Project Manager, Ato Alemseged Mahiteme, Addis Ababa Library and Literacy Development Project Manager and Janet Lee, Technical Service Librarian at Regis University (Denver), I worked to develop curriculum and lead trainings. We organized and led trainings in three cities: Addis Ababa, (the Capitol of Ethiopia), Awassa, which is in the south, and Mekelle in the north.
Over a three-day period at each location, attendees were trained in basic library concepts, specific skills and more advanced concepts relating to children's librarianship. The goal was to provide attendees with the theories behind librarianship as well as skills and strategies to use on the job. The basic concepts included sessions on libraries, types of libraries and parts of a book. Specific skill training included inventory, binding, cataloging and classification. More advanced concepts explored child development, children's literature, reading programs and literacy programs.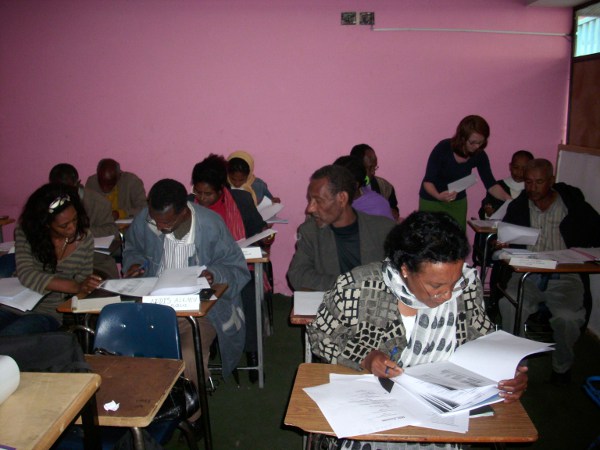 Rachel works with trainees as the learn how to classify and catalog books
Feedback was solicited from the attendees following the training sessions. Attendees consistently requested additional training and emphasized the positive effect training had on their confidence in doing library work within the school. One participant said: "Before, I didn't like my job [being a librarian] because I was assigned as a librarian without any training. But now this training helps me to love the job."
Attendees left the trainings feeling empowered and excited about the work they can do with children in their schools: "I had no idea before about children's literature, but from this training I gained a lot of knowledge and experience," said another trainee. The trainees proudly held up their certificates and posed for photos in front of a lush landscape.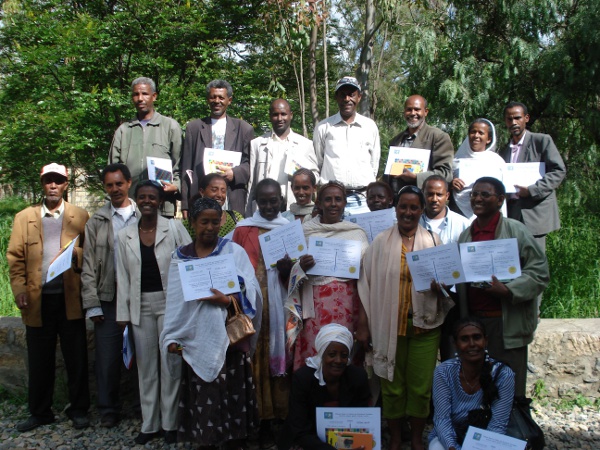 School library training graduates show off their certificates
I realized that coming to Ethiopia would have a profound effect on me personally. However, I was unaware of the amount I would learn. I have had many wonderful and enriching experiences and feel that I have been able to contribute to the library program's mission a little bit. It is nice to be part of something that is making such positive change in a country where it is vastly needed.