The Silverfish is published monthly by the students of the Information School at the University of Washington.


About The Silverfish
Archive
Current Issue
Editorial Board
Information for Authors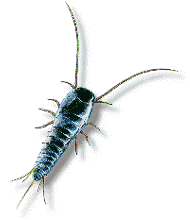 Silverfish (Lepisma saccharina) have inhabited the earth for over 300 million years. These hardy insects live in areas with mild temperatures and high humidity, such as damp storage rooms, bathrooms and basements. Silver fish are silver in color, grow to about 1/2 inch in length and lay thier eggs in cracks and crevices. These light-shy, nimble and wingless insects live for up to four years. Silver fish generally cause trouble in large quantities. Silverfish are pests of paper and prefer food containing starch such as the glue found in book bindings and photographs. Silverfish are found throughout the United States and the world.
The Silverfish is also the official newsletter of the Association of Library & Information Science Students (ALISS) at the University of Washington. It is published quarterly by the students of the Information School and covers issues including fieldwork experiences, conferences, student organizations, and quality of life issues for students. The Silverfish is actively seeking contributions including articles, artwork, poetry and short stories. If you are interested in contributing or have an idea for a piece, please contact John Buell .