2022 – Mahnaz Javid

Mahnaz Aflatooni Javid is the president and CEO of Mona Foundation; a Bellevue-based global non-profit focused on providing education for young women worldwide. UWiB admires her devotion to changing the lives of young women everywhere, helping pave the way for their right to educational opportunities. Her accomplishments, generosity, and passion are inspiring, and we hope Mahnaz can continue to share her story with us and encourage others to follow their pursuits in making a difference for a better world.
2021 – Susan Long-Walsh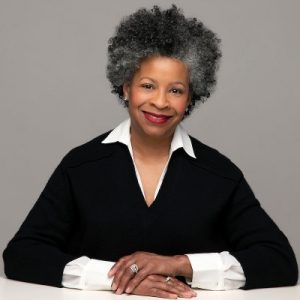 Susan is the Senior Practice Manager for Diversity Equity and Inclusion at T-Mobile, but has continued to drive groundbreaking diversity, equity, and inclusion strategies and initiatives for many other top Northwest organizations. She has been recognized as a highly collaborative ambassador for fostering a strong sense of access, inclusion and belonging for all in the workplace and showed UWiB the importance of finding people who support you while emphasizing her hopes for us as the next generation of women in business.
---
2020 – Kim Vu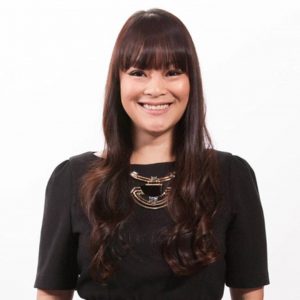 Kim is the Global Head of Diversity, Equity and Inclusion at Remitly, a fintech company serving immigrants throughout the world. Outside of work, Kim leads The Respect Institute as the National Founding Board Chair. Her co-founding team has been recognized by the Clinton Global Initiative, Ashoka Changemakers and Packard Foundation for reaching over 80,000 youth and influencers in K-12 schools and juvenile justice systems with their Respect 360 program focused on ending the school to prison pipeline.
Kim has been recognized as one of the Top 50 EMpower 2019 Ethnic Minority Future Leaders list on Yahoo! Finance (#4), Top 50 EMpower 2018 Ethnic Minority Future Leaders list in the Financial Times (#5), and was acknowledged as a 100 Women of Influence.
---
2019 – Ingrid Russell-Narcisse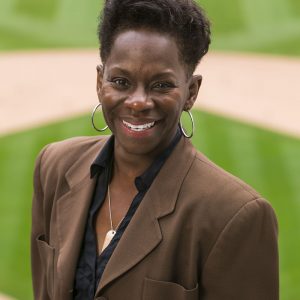 "Compassionate, Out-of-the-box & bold thinker, incredible mentor"
Ingrid devotes time to Corporate Sponsorships, generates revenue for the Mariners, and builds relationships between the club communities/companies. She is passionate about partnership development. She is a leader in diversity in the sports industry. Her persistence and passion for sports has led her to the career leaps she has taken.
---
2018 – Shelly Reynolds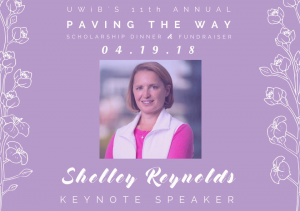 Shelley Reynolds serves as Vice President, Worldwide Controller and Principal Accounting Officer at Amazon. In her role, Shelley has spent the past decade overseeing Amazon's accounting function, managing a global team that touches every geography in which Amazon operates. Prior to Amazon, Shelley served as a Partner at Deloitte & Touche.
A proud graduate of UW, Ms. Reynolds serves on the Foster School of Business Advisory Board. Ms. Reynolds has been recognized as one of Puget Sound Business Journal's Top Women in Tech, on Moves Magazine's Power Women list, and was named one of the 50 Most Powerful Women in Technology by the National Diversity Council. 
---
2017 – Britt Peterson Fero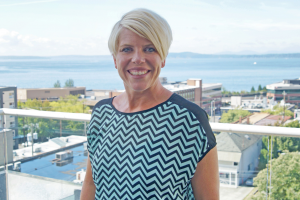 UWiB's 
Woman of the Year
 Honoree is Britt Peterson Fero, a branding and strategy mogul in 
the
 Seattle area. Britt was UWiB's Fall Kickoff speaker in 2015, when she was 
the
 Chief Strategy and Media Officer for Publicis Seattle. She impressed our members then and we are so excited to have her back again! She recently began PB&, her own strategy firm, and continues to inspire us through her entrepreneurship and chutzpah!
---
2016 – Dianka Linear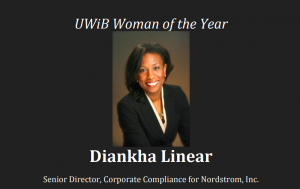 The "Paving the Way" Fundraiser is also an opportunity for UWiB to thank and honor women in leadership who are "paving the way" for future female business leaders. Every year UWiB recognizes one Seattle professional as the UWiB "Woman of the Year" for her professional success, commitment to the Seattle community, and embodiment of UWiB's values. This year, UWiB is honored to recognize Diankha Linear, Senior Director, Corporate Compliance for Nordstrom, Inc. as the UWiB "Woman of the Year."
---
2015 – Sue Anderson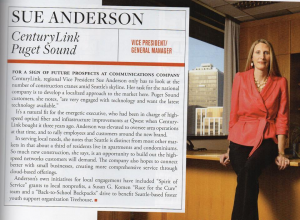 As 
the
 recipient 
of
the
 Seattl
e Business Magazine's 2014 Executive Excellence Awards and recognized by 
the
 Puget Sound Business Journal as a 2014 
Woman
of
 Influence, Sue has undoubted led a successful and inspiring career path. Not only is she a successful business leader, but she is also very involved in 
the
 Seattle community. Among 
the
 many philanthropic causes she supports, her team was recognized as 
the
 Top Corporate Fundraising Team in 
the
 Susan G. Komen "Race for 
the
 Cure" event. Her leadership both in and out 
of
the
 office is an incredible example to our members and 
the
 Seattle community
---
2014 – Jane Park