[Me with terrible bangs, Age ~5 ish?, San Diego, CA]
To be honest, I was suppose to go first in this whole "My FASA Story" series, but I thought my story would be too much for first impressions. It might be too much for people to swallow.
Too much.
What does it mean to be too much?
Well — ever since I was little with terrible bangs, I always thought of myself to be too much. I'd ask too many questions, I'd sing too much in public, I'd get in to too much trouble with my Kuya. But as a 5 year old, you don't immediately see yourself as being "too much" – you're just having a good time being you.
[My amazing mom and my sometimes cool Kuya]
I knew that I was too much at an early age when I was often silenced. I wasn't the only one silenced. Kuya and mom were also silenced.
Naturally, growing up in this environment made me feel like a burden. It was best to be quiet. It was best to stop asking questions. It was best to stop being "too much".
So that 5 year old girl with terrible bangs who was completely and proudly herself?…She was forgotten for the rest of her life till her sophomore year of college.
—
I met this little girl during my second Sayaw performance. I remember her coming into our dressing room and was like, "Hey guys!! I learned how to break dance!!" She was 3 years old.
[TWINSSSS!]
Seeing her dance around all over the place with no care in the world, being herself, and speaking her mind – made me wish I was like her. She would ask us countless questions of our Sayaw costumes, our props, and our dances. She reminded me of myself when I was little. It felt like I was looking into the past. That night after meeting her, I promised myself I would try to be that girl who dared to ask a lot of questions. Funny, huh? A 19 year old wanting to be a 3 year old?
—
Amazing things have happened to me after meeting that girl. She always has been on the back of my mind moving forward. I've become more aware of my community: how freely my community speaks up when they see injustice and how sometimes our voices are forcefully silenced.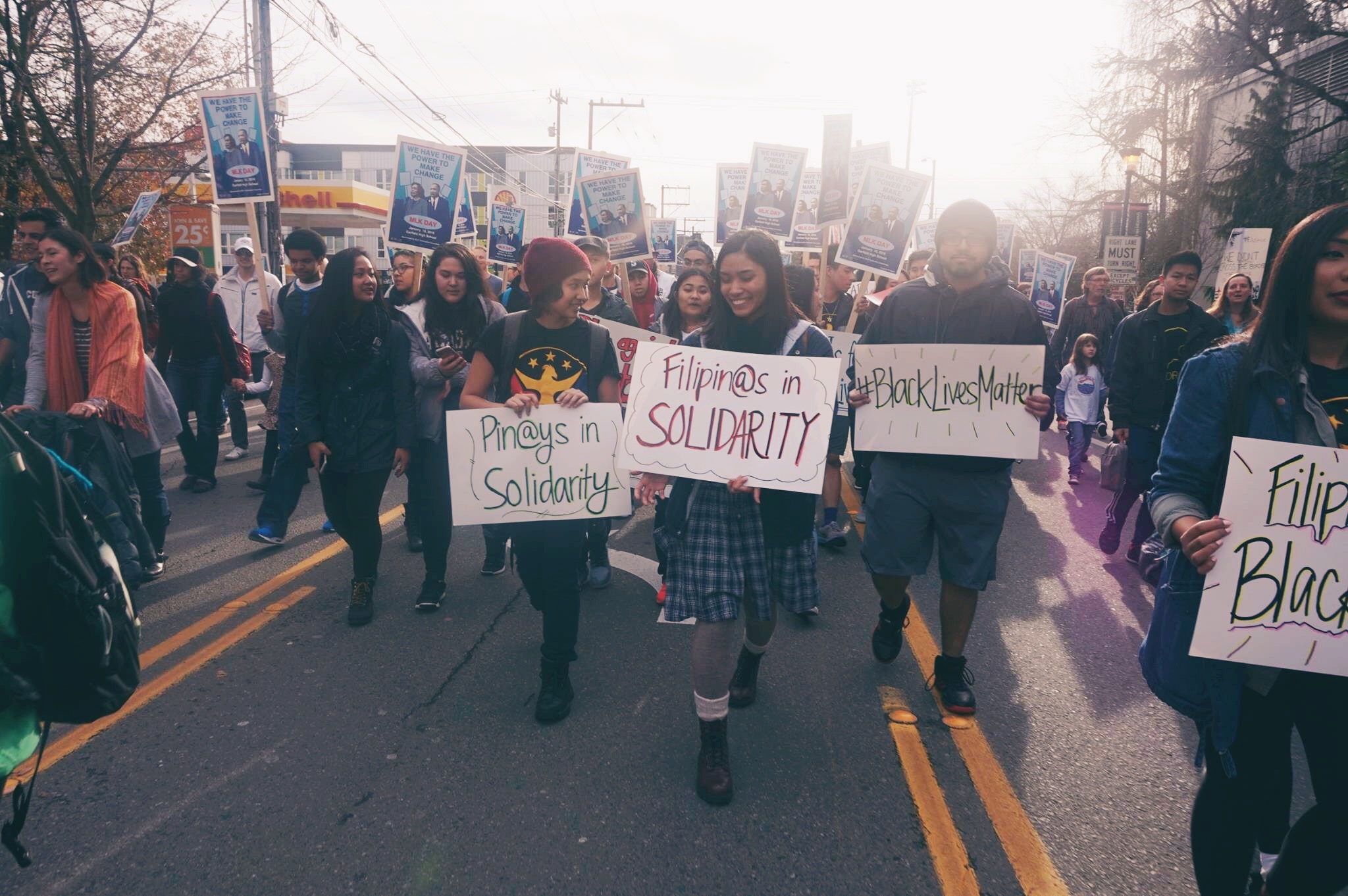 [Martin Luther King Jr. March – Jan 2016 – Downtown Seattle]
I remember feeling so empowered when I was with FASA, MIC, and PSA to stand up for our protected seats during that ASUW Senate meeting. I remember the first time I spoke up for something bigger than myself. I remember the first time I spoke up to violence on campus and finally the  violence at home. I remember the first time I felt truly, genuinely, out-of-my-mind, happy.
[My favorite dance, Sayaw sa Bangko (Super version!) – Pista Sa Nayon 2016]
To this day, I still have to train myself to NOT believe I am a burden to the world. I still have to train myself to believe that my experiences and feelings are valid. And this is why the word alpas resonated with me so much. The word itself is a verb. It's an action: to break free, to break loose. It's an ongoing process.
I'm not free yet and I don't have all of the answers.
I'm still learning. And I can't wait to learn with all of you.
Find out more about Ann and her position here!
What's your FASA story? #alpas