Here are some events that ALISS has put on over the past few years.
Grieg Garden Party – ALISS and SLA Mixer
Friday, 9/25 from 3-5pm was the annual ALISS welcome week garden party! It was great to meet a bunch of the new students and catch up with returning students as well! Thanks for coming all!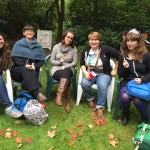 Spring Quarter Open Meetings
Do you have questions about fall registration? Comments about your current coursework? Suggestions for the future? Want to meet your new ALISS officers?
This is your chance to give direct feedback on your iSchool experience and improve the program for future students. ALISS is committed to helping maintain an open dialogue between students and iSchool administration, and we value your participation.
The F2F Meeting will be held Wednesday, May 6th from 2pm-4pm location TBD.
The Online Meeting will also be held on Wednesday, May 6 from 6:30-8:30 pm
(PST: https://ischool.adobeconnect.com/aliss).
Please attend one (or both!) of these meetings and let your voice be heard. As usual, the first hour is students-only.  During the second hour, we will be joined by Joe Janes (MLIS Program Chair), Marie Potter (MLIS Academic Advisor), and (for the online meeting) Matt Saxton (Associate Dean for Academics)
If you're unable to attend, remember that we have the ALISS course on Canvas to discuss your iSchool experience in a more secure place than social media. There are no faculty, staff, or administrators on the Canvas site, so your comments/questions/concerns will remain anonymous. Post your thoughts there and we will address them during the open meetings.
Coloring at the College Inn
ALISS and iARTS are partnered up to put on a de-stressing event filled with socializing, food, and coloring books! May 10th from 7-9PM!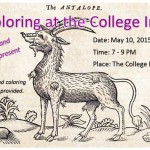 Betsy Wilson Lunch
ALISS's annual lunch with Betsy Wilson (Vice Provost for Digital Initiatives & Dean of University Libraries at UW) was on Monday, May 11, 12-1 pm in the Petersen Room!
ALISS Spring Booksale
The spring book sale took place on Wednesday & Thursday May 20th & 21st! It was a great fundraiser and outreach event!
Winter Open Meetings
Face-to-Face Open Meeting
Friday, February 6
2pm-4pm
Allen Library Research Commons, Red C
Online Open Meeting
Wednesday, February 11
6:30pm-8:30pm (PST)
via Adobe Connect
This is your opportunity to provide feedback on your experiences as a MLIS student. Come with comments, concerns, and suggestions for improving the program.
Student Leadership Brown Bag
Wednesday, February 11
12:30pm-2pm
Allen Library Research Commons, Red C
Elections for new student leaders are upon us and we want to provide you with everything you know about the iSchool's student organizations. Come with questions and find out how you can lead your peers!
ALISS iSkating Fall Social
December 6
7pm-9pm
Winterfest Ice Rink at Seattle Center
This is an ALISS-sponsored social event, open to all MLIS students, your significant other, and your families to celebrate the end of the quarter. RSVP by December 1st and ALISS will pay your way into the event. We'll provide hot chocolate, cookies, and cheer!
Informal Capstone Brainstorming Session (with AIMS)
November 10
6:30pm-7:30pm
OUGL 220
Looking for a Capstone project? Brainstorm and connect with other iSchoolers at this informal planning session held by ALISS and AIMS.
ALISS Online Happy Hour
November 6
6pm-8pm
Link to be sent out via email
This is a web-based social event for our new and returning online students.
Fall Book Sale
October 29 and 30
10am-4pm
Red Square
Look for the ALISS tent in Red Square and help us raise money for the coming year! Volunteer opportunities available here.
ALISS Fall Open Meetings
Face-to-Face Open Meeting
Friday, October 24
2pm-4pm
Allen Library Research Commons
Online Open Meeting
Monday, October 27
6pm-8pm
via Adobe Connect
This is your opportunity to provide feedback on your experiences as a MLIS student. Come with comments, concerns, and suggestions for improving the program.
All iSchool Welcome and Fair
Friday, September 19, 2014
1 – 4pm
Kane 120
Don't miss the iSchool's official welcome to all incoming students.
ALISS and sALA Social
Friday, September 19, 2014
4:45pm
Grieg Garden (near Allen Library)
A mixer for new and returning students.
iBall 2014
iBall was the all iSchool social event of the year that features food, fun, dancing, and more! Last year's iBall took place on June 6, 2014 at the UW Tower. The iSchool student body joined ALISS to celebrate another successful academic year with highlights like Dubs the live UW mascot and sALA's annual Edible Book Contest.
Luncheon with Betsy Wilson
Spring Book Sale