Law School Admissions Panel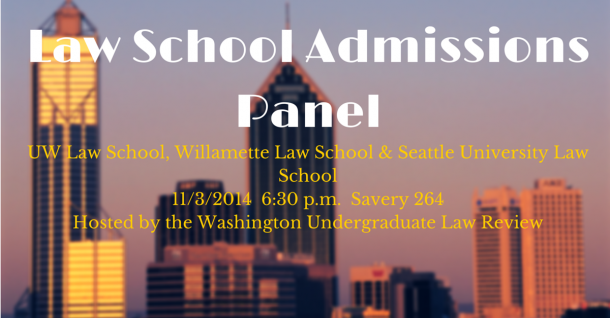 Are you currently applying to law school or an eager freshman wanting to hear more about law school?
We want YOU to come to the Washington Undergraduate Law Review's Law School Admissions Panel in Savery 264 at 6:30 p.m.  The Deans of Admissions from the University of Washington School of Law, the Seattle University School of Law, and Willamette University's School of Law will be in attendance.  These three premiere Northwest law schools are some of the best in the country and will provide extremely helpful information to anyone remotely considering law school.
The Washington Undergraduate Law Review is pleased to host this event and we look forward to working closely with all three law schools in the future.
Keep a lookout on our Facebook Page and website for more prelaw focused events to come! In addition, feel free to RSVP to our Facebook event!