ARRESTED FOR EXPERIENCING HOMELESSNESS: The Criminalization of Homelessness in the United States and the Revolution of the Rhode Island Homeless Bill of Rights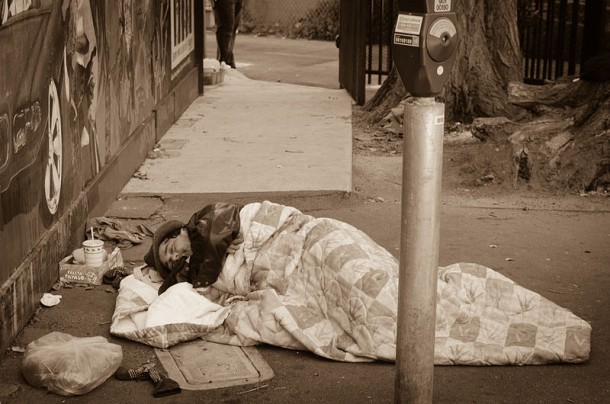 Winter 2014 : Volume VII : Issue 2
*Author: Cristina Semi, Hamline University
*Public order laws that criminalize life-sustaining behaviors when performed in public systematically disadvantage unsheltered individuals experiencing homelessness because they are compelled by their situation to necessarily perform such conduct in public. Historically, vagrancy laws were used to legally eliminate the presence of individuals experiencing homelessness from the public streets. Since courts have largely overturned these unconstitutional laws, many cities have resorted to criminalizing basic, life-sustaining behaviors, such as sleeping, sitting, lying, and camping. Though these laws utilize neutral language that applies to all citizens, the punitive value of the laws is truly only endured by unsheltered individuals experiencing homelessness. In early 2012, Rhode Island codified a solution to this epidemic. The Rhode Island Homeless Bill of Rights confers upon all individuals experiencing homelessness the right to move around in and freely use public spaces, but the statute's inclusion of the phrase "…in the same manner as any other person…" does not confront the current discrimination against individuals experiencing homelessness in relevant criminal law. Essentially, the
Rhode Island law does not acknowledge the fact that "any other person" is not systematically disadvantaged by public order laws. While the Homeless Bill of Rights is certainly a step in the right direction towards legally addressing the
criminalization of homelessness, the law does not go far enough. All states should look to Rhode Island's law as a legislative model, but should further develop this concept to explicitly challenge and eradicate the discrimination against individuals experiencing homelessness currently within many cities' ordinance codes.
To continue reading this article please refer to our "Ordering" tab and purchase your hard copy of this publication, or download an online copy from our "Issues" tab. Thank you.