Admissions Panel A Great Success!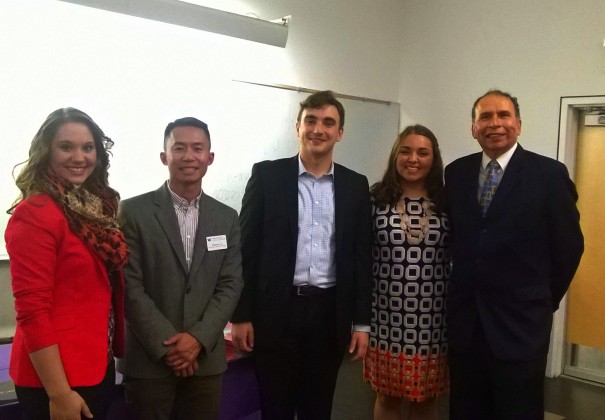 Pictured from left to right: Emily Grimmius–WULR Director of Public Relations, Mathiew Le–UW Law School Assistant Dean, Admissions & Financial Aid, Robert Sepler–Seattle University Managing Editor of the Seattle University Law Review, Ashley Kuhn–WULR Editor in Chief, and Danny Santos–Willamette College of Law Associate Dean for Student Affairs and Administration. 
On November 3rd WULR was pleased to host admissions representatives from three premiere regional law schools!  Mathiew Le from the UW School of Law, Danny Santos from the Willamette College of Law, and Robert Sepler from Seattle University Law School provided over 60 WULR members and other pre-law focused students with plenty of information!  
The event began with ten minute presentations from each admissions personnel, covering basic admissions information, varying from Study Abroad and Exchange programs, degree pathways, student activity life, and much, much more!  The event proceeded to address a thirty minute Q&A session from the students, and ended with students speaking personally with the admissions representatives.  
It is the mission of the Washington Undergraduate Law Review to not only help students grow their editing skills, form a community of pre-law students at the UW, but to also provide valuable resources for students regarding law school admissions, and other related information.  The Washington Undergraduate Law Review thanks the UW School of Law, Seattle University School of Law, and Willamette College of Law for their support of WULR and help in providing priceless information regarding law school admissions.
Be on the lookout for information about our TestMasters "LSAT 101: The Basics" event on November 19th! 
For additional updates, follow WULR on Facebook!