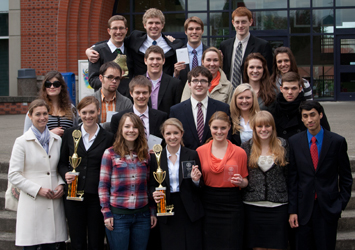 Click the photo to view our gallery
University of Washington Mock Trial
University of Washington Mock Trial is a student-run program composed of two 6-10 person teams of undergraduate students. By portraying attorneys and witnesses, members immerse themselves in the legal system and put on full trials, from opening statements to closing arguments. The club is an active member of the American Mock Trial Association, the governing body for intercollegiate mock trial, and proudly represents the University of Washington at competitions across the country.
What is Mock Trial?
Mock Trial is a team-based competition. At the college level, undergraduate students assume the roles of attorneys and witnesses, dissect 100-page case binders, and prepare full trials to compete against other colleges and universities. A typical mock trial tournament consists of four rounds, during which two teams from two different schools put on a trial that is judged by law students, attorneys and/or real judges. A full team comprises 6-10 students, with competitors preparing opening statements, direct and cross examinations, closing arguments and witness portrayals.
Each year, the American Mock Trial Association publishes a case to be used by every collegiate team in the U.S. The cases alternate between civil and criminal proceedings, and each case embraces a relevant issue of law, complete with evidence rules and previous court rulings, to be synthesized, distilled and presented during team practices and competitive performances. This season's case, State v. Bowman revolves around a robbery-gone-wrong at a them park, RacheterWorld.