2018 – Shelly Reynolds
Shelley Reynolds serves as Vice President, Worldwide Controller and Principal Accounting Officer at Amazon. In her role, Shelley has spent the past decade overseeing Amazon's accounting function, managing a global team that touches every geography in which Amazon operates. Prior to Amazon, Shelley served as a Partner at Deloitte & Touche.
A proud graduate of UW, Ms. Reynolds serves on the Foster School of Business Advisory Board. Ms. Reynolds has been recognized as one of Puget Sound Business Journal's Top Women in Tech, on Moves Magazine's Power Women list, and was named one of the 50 Most Powerful Women in Technology by the National Diversity Council.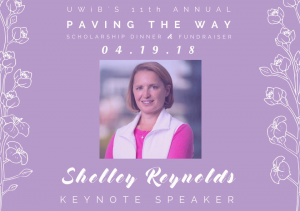 2017 – Britt Peterson Fero
UWiB's 
Woman of the Year
 Honoree is Britt Peterson Fero, a branding and strategy mogul in 
the
 Seattle area. Britt was UWiB's Fall Kickoff speaker in 2015, when she was 
the
 Chief Strategy and Media Officer for Publicis Seattle. She impressed our members then and we are so excited to have her back again! She recently began PB&, her own strategy firm, and continues to inspire us through her entrepreneurship and chutzpah!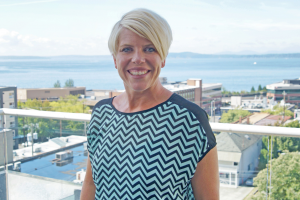 2016 – Dianka Linear
The "Paving the Way" Fundraiser is also an opportunity for UWiB to thank and honor women in leadership who are "paving the way" for future female business leaders. Every year UWiB recognizes one Seattle professional as the UWiB "Woman of the Year" for her professional success, commitment to the Seattle community, and embodiment of UWiB's values. This year, UWiB is honored to recognize Diankha Linear, Senior Director, Corporate Compliance for Nordstrom, Inc. as the UWiB "Woman of the Year."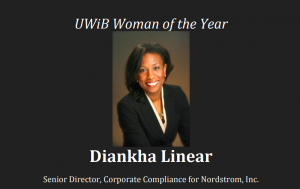 2015 – Sue Anderson
As 
the
 recipient 
of
the
 Seattl
e Business Magazine's 2014 Executive Excellence Awards and recognized by 
the
 Puget Sound Business Journal as a 2014 
Woman
of
 Influence, Sue has undoubted led a successful and inspiring career path. Not only is she a successful business leader, but she is also very involved in 
the
 Seattle community. Among 
the
 many philanthropic causes she supports, her team was recognized as 
the
 Top Corporate Fundraising Team in 
the
 Susan G. Komen "Race for 
the
 Cure" event. Her leadership both in and out 
of
the
 office is an incredible example to our members and 
the
 Seattle community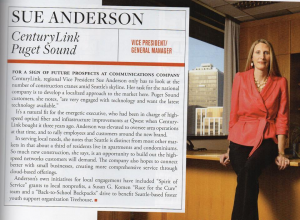 2014 – Jane Park