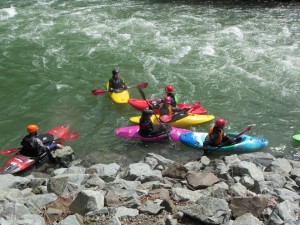 UKC is offering an Introduction to Whitewater Kayaking class this fall!  The class presumes no whitewater experience, but it will also be helpful to those who have been on the river a few times.  The class will consist of a lecture on Friday evening (usually 6:30-8:30 PM), a full day on the lake (and possibly the river) on Saturday, and a river trip on Sunday.  It will take place November 1-2, with the Friday evening session on October 31.
The classes have limited enrollment, so sign up quickly!  To reserve your spot in the class, you must register via the survey below.
https://catalyst.uw.edu/webq/survey/dallenr/251113
In addition, you must be a both a UKC member (register at the HUB; $20/year for students and $48/year for faculty/staff) and an American Canoe Association (ACA) member ($25 for students under 23, $30 otherwise).  Once you fill out the survey, I'll send you an e-mail with instructions to become an ACA member.  As soon as I get your membership number, your spot is confirmed!
Last, it is highly recommended that you go to a pool session once before the class to pass the UKC swim test.  You need to successfully demonstrate a wet exit before going on the water.  There is a pool session at 8:30 AM on Sunday, October 26 and one at 3:30 PM on Friday, October 31 (calendar here).  If you absolutely can't make either of these sessions, you'll have to do a wet exit first thing on Saturday in the lake, which means you might be a little cold the rest of the day.
Please let me know if you have any questions!  I'm looking forward to the classes.
Allen Roberts