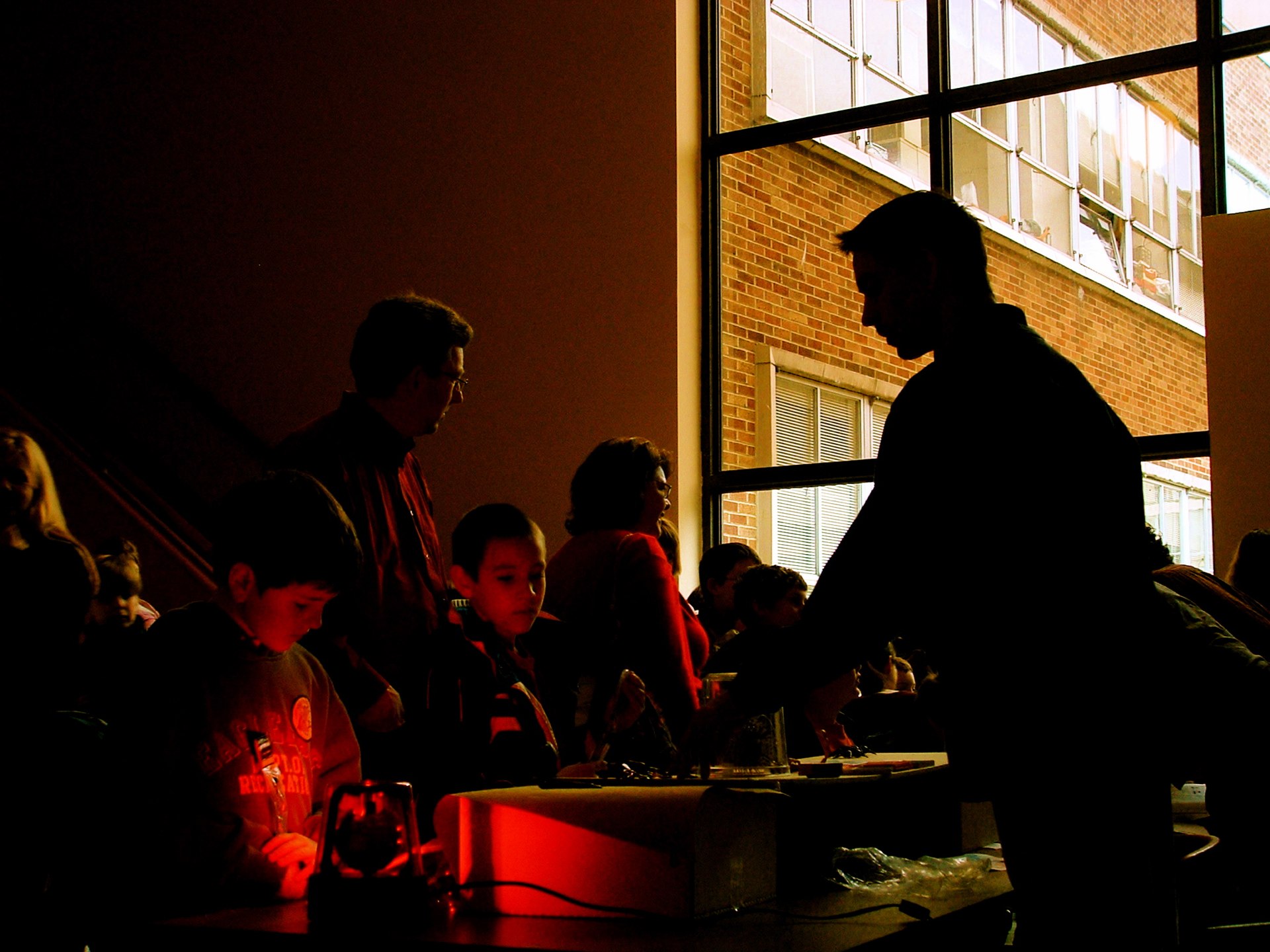 In the beginning
Sat, April 1st, 2006
On March 22nd, a group of ten Neurobiology & Behavior (N&B) graduate students organized their own exhibits at the Brain Awareness Week Open House for the second consecutive year. Their exhibits were a huge success.

After the event, Hiro Watari made a slideshow of photographs he had taken at the event and showed it to Jonathan Ting. Jonathan got excited and encouraged Hiro to show it to the N&B Directors. They did, and they got a spot to premiere the video during the break between N&B Rotation Talks.

On April 1st, the original BAW video was premiered at the N&B Rotation Talks. The video highlighted photographs taken at the BAW Open House 2006 and it ended with an ad that recruited volunteers for the two upcoming outreach events.

Around that time, Jonathan shared his idea with Hiro about documenting the exhibits for future instructional purposes.

They brainstormed as they spoke, and after extended discussion, they decided to create "how to" video of each exhibit.

But it didn't end there. They talked about a bigger plan.

The video would be "embedded" into a poster, which they would present at the SfN Neuroscience Meeting in Atlanta.

They would establish a "Student Outreach" branch within the Graduate Program in Neurobiology & Behavior and to promote community outreach as an integral part of their graduate training.

To support this project, they outlined a proposal to the Learning for Leadership Council grant.

Then, Jonathan sat and started writing...

We believe that the overall quality of the experience in our Graduate Program will be greatly enhanced by extending the training opportunities beyond the conventional research and teaching roles and incorporating a component dedicated to community outreach. This project will create leadership opportunities for current and future students in our Program to share their knowledge and excitement about neuroscience through participation in specific outreach events (mainly on the UW campus) throughout the year. Our vision is to have a range of outreach activities that serve all levels of education and community—a sort of outreach "pipeline" spanning from elementary through Undergraduate education. The goal of this project is not recruitment for our Graduate Program per se, but rather to give graduate students the opportunity to serve a vital role on our campus and in our community. This project will enable graduate students to explore solutions to major challenges that exist with respect to effectively communicating fundamental concepts in neuroscience to broad audiences. Secondly, we want to provide peer-to-peer advising to those students interested in pursuing paths similar to our own, regardless of whether that advice leads them to our Graduate Program or to a different program.

Soon, they invited fellow N&B graduate students who played key roles in planning and executing the BAW Open House.

Then the outreach superstar, Bryan White got on board.