UPCOMING EVENTS
| EVENT | DATE | VENUE | TIME |
| --- | --- | --- | --- |
| Game Day | November 14, 2015 | HUB, Room 214 | 1.30pm – 4.00pm |
| Amazing Race | December 05, 2015 | Red Square | 10.30am – 1.30pm |
| TBD | TBD | TBD | TBD |
| TBD | TBD | TBD | TBD |
| | | | |
PAST EVENTS
Date : October 02, 2015
Venue : The Quad
Description
: The first meet-up with all the Malaysians regardless of being a member or not. The event mainly held to give a warm welcome to the freshmen.
Date : October 09, 2015
Venue : Husky Union Building (HUB)
Description
: We shared valuable information about the process of getting into the departments mainly with those who are applying for the admission. Seniors, Juniors and may others willingly helped those who needed guidance.
Date : October 24, 2015
Venue : IMA Gym C
Description
: Had an interactive sports session that varied from traditional to some modern sports such Kabaddi, Dodgeball, and Captain Ball.
Date : November 07, 2015
Venue : The Rotunda Building, Health Science Building
Description
: Celebrated two of our major festivals in Malaysia which are Deepavali and Hari Raya.
How MASAUW members feel about studying here? Watch this video!!
OUR FAMILY!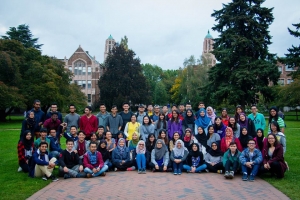 Are you interested? Join us and have a splendid experience! Click the button below to apply for the membership.