Come join First Nations @ UW for our 42nd Annual Spring Powwow! On April 19, 20 and 21st at Alaska Airlines Arena at Hec Ed Pavillion, University of Washington, Seattle.
Our Beating Hearts, Dancing to Our Health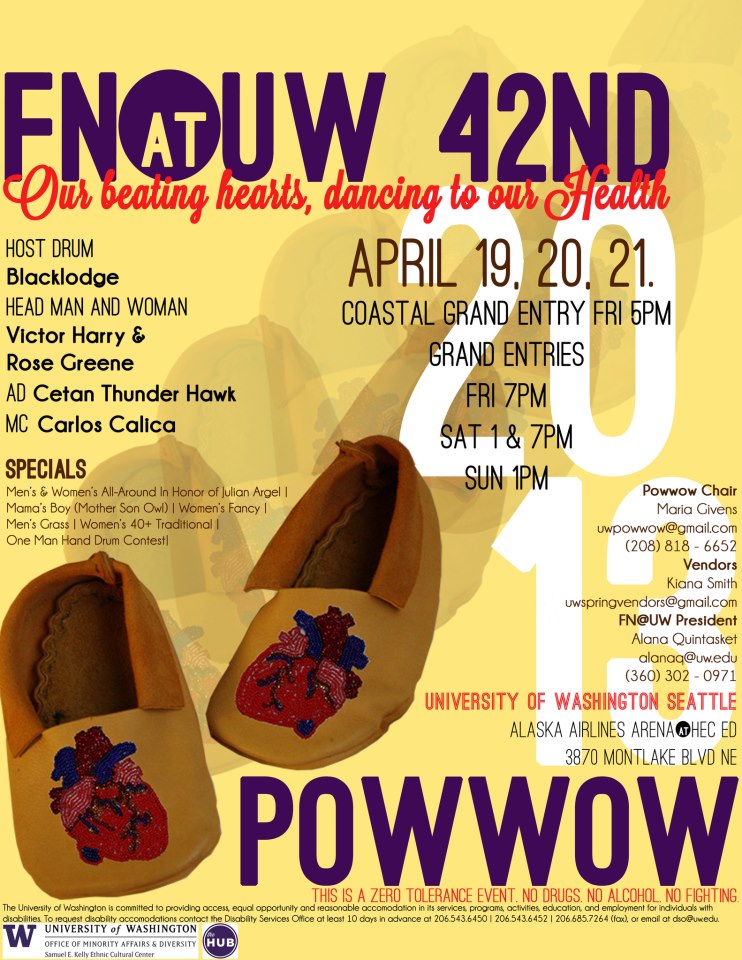 This is the largest student-run event on campus bringing in an average of 8000 people every year. It's free to get into but we highly suggest you bring some extra money to support the Native American artists that will be selling their work as well as buying concessions (Indian Tacos) sold by First Nations.
This is a zero tolerance event: No drugs. No alcohol. No weapons. No fighting.
Grand Entries
Friday- 7pm
Saturday- 1pm and 7pm
Sunday- 1pm
Head Staff
Host Drum- Blacklodge
Head Man- Victor Harry
Head Woman- Rose Greene
MC- Carlos Calica
Arena Director- Cetan Thunder Hawk
Specials
Men's and Women's All Around in Honor of Julian Argel
Men's Grass
Women's Fancy
Women's 40+ Traditional
Mama's Boy (Mother Son Owl Dance)
11th Annual One Man Hand Drum Contest
More Specials TBA
There will be a drum contest
Categories
Golden Age Men & Women
Men: Fancy, Grass, Traditional
Women: Fancy, Jingle, Traditional
Teen Boys: Fancy, Grass, Traditional
Teen Girls: Fancy, Jingle, Traditional
Jr Boys: Grass, Fancy, Traditional
Jr Girls: Fancy, Jingle, Traditional
Tiny Tots
Click here to see the campus map with all the parking lots for Powwow including the Elder/Disability Drop off Area
Friday- Parking in E-1 and E-18 will be $10, E-12 will be $15
Saturday- E-1, E-12 and E-18 will be $7, after 2:30 will be Free
Sunday- All parking is Free