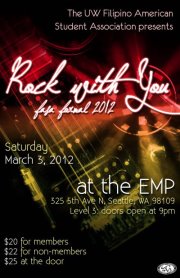 You know what it is… It's that time of year again! It's time to forget about school and let loose on the dance floor! Get your friends together because it's time to rock with FASA as we enjoy a night of dancing, music, and fun-filled memories!! So come join us for the biggest night of the year!

We're doing it rockstar-style and holding this year's formal at the EMP, Level 3!

FEATURING: DJ Rafattack!

Info:
*Tickets*
Pre-Sale [Feb 13th -March 1st]
$20 dollars for FASA members
$22 for general admission
Door Prices [March 2nd – day of event]
$25 at the door
Tickets will be going on sale starting Feb. 13th until the day of the event.
Contact any of the FASA officers if you would like to purchase tickets.
Tickets are non-refundable.

*Parking*
There is parking available around the venue. There is several parking lots, but all of which you must pay for the evening. Carpooling is suggested! There is also street parking!

*Bars*
There will be a designated area for the 21+ guests. Make sure you bring a valid ID! Bar accepts CASH ONLY! (There is a ATM outside and there's no re-entry, so bring cash!!)

*Photography*
TBA

*Coat Check*
Free coat check will be available

*Will Call*
Will Call is available for all members of the NWFASA organizations and are subjected to the same rates as UW FASA members:
$20 – member presale
$22 – general presale
Members are allowed up to 2 tickets at membership price, and must pay $22 per ticket purchased thereafter.

To get on the will call list, have your members email UW FASA's Treasurer, Alyssa Reyes (reyesalyssa18@gmail.com), or the Activities Chair, Lauren Baniqued (lauren.a.baniqued@gmail.com), using the following template:

Subject: UWFASA Formal Will Call
Name:
# of tickets:
Name(s) ticket(s) will be under (if not your own):

The deadline to request for will call is March 1st at 6:00pm.
*NO EXCEPTIONS* If paying by check on the day of the event, make checks payable to "UW FASA". Please relay this information to your members.

*There will be no re-entry to the venue* If you leave, you will have to pay to re-enter! See you there!