FASA sa UW Presents: The Bladed Hand
A Documentary On The Global Impact of Filipino Martial Arts
Directed and Produced by Jay Ignacio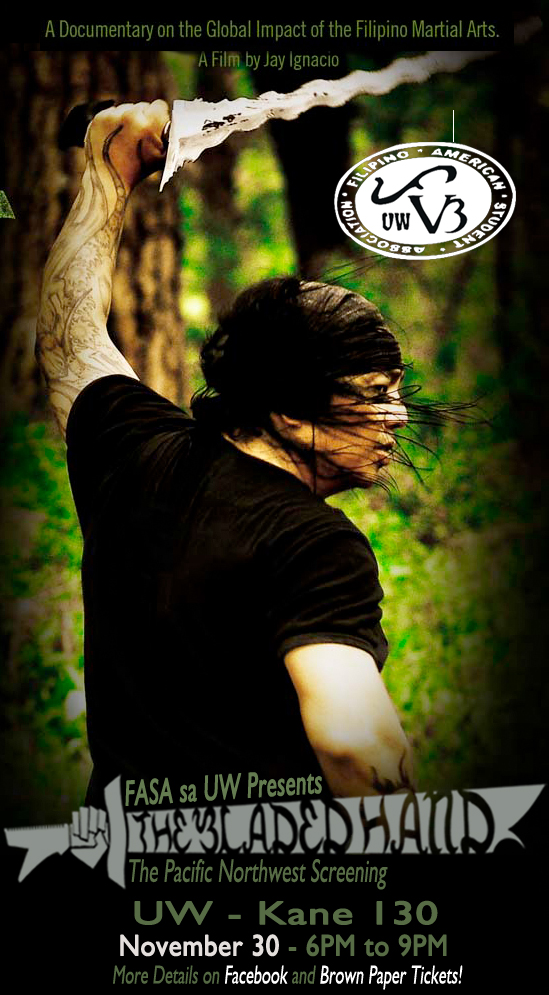 Join FASA sa UW as the Director, Jay Ignacio, and Co-Producers, Sonny Sison and Kent Vives,fly into Seattle to screen this incredible documentary exposing the true beauty and roots of Filipino Martial Arts. Despite FMA's success around the world, it has been neglected, and even forgotten in the Philippines. Its importance has not been fully recognized. Take this journey with us as we delve into FMA's past and its international effect today.
"FMA is most probably our country's greatest cultural export, and we Filipinos don't even know it." – Jay Ignacio
This will be one of the The Bladed Hand's last stops in its Debut U.S. tour! Get your tickets now.
| DETAILS |
Date: November 30th, 2012
Location: University of Washington – Kane Hall, Room 130
1410 Northeast Campus Parkway
Seattle, WA 98195
> 6PM – Doors Open
> 7PM – Event Begins
> 830PM – Q&A with Director, Jay Ignacio, and Co-Producers, Sonny Sison and Kent Vives
Price: $10 General Admission
Seats are first come, first serve
TICKETS: http://thebladedhandpnw.bpt.me/
| VENDORS |
The latest and best gear from local FMA Academies. Don't forget to support your community. And more importantly, find out where the closest FMA school is for you, so that you can start training!
Jay Ignacio, Sonny Sison, Kent Vives – Personally selling The Bladed Hand posters. DVDs no longer available.
Kalahi Academy – http://on.fb.me/KalahiAcademy
Natural Spirit International – http://www.kellyworden.com/
For inquiries on becoming a vendor at #TheBladedHandPNW, please contact Jordan Faralan at jfaralan@gmail.com
| FMA FACTS |
– For at least 30 years now, FMA has been considered the most effective weapon-based fighting system by both Military and Law Enforcement systems.
– FMA has also been the martial art of choice for Hollywood's top fight choreographers such as Jeff Imada (The Bourne Identity, The Bourne Supremacy, The Bourne Ultimatum, The Book of Eli, Lethal Weapon), Robert Alonzo (Mission: Impossible 3) and Jon Eusebio (The Bourne Legacy).
– FMA was first introduced to Hollywood in 1973 by Bruce Lee in the film "Enter The Dragon", after he had learned it from Dan Inosanto.
– All of the above artists were interviewed for the film!
– The Philippine Government formally recognized Arnis as the country's own martial art by way of the Arnis Law or Republic Act 9850, declaring Arnis, Kali or Eskrima as the National Sport and Martial Art.