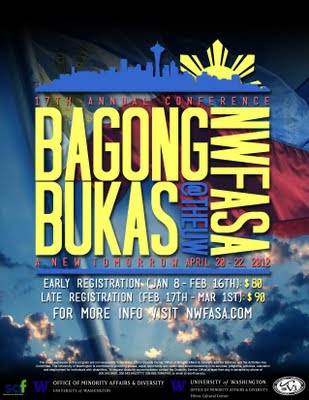 2012 NWFASA Conference will be held at the University of Washington,
April 20th-22nd, 2012.
**PLEASE RESTRAIN FROM SENDING OUT TICKETING LINK VIA FB, TWITTER, TUMBLR, ETC. AS IT IS A MEASURE FOR HEAD COUNTS FOR SPECIFIC SCHOOLS.**
**Contact your organization's officers for the registration application link. You can also contact Athena Galdonez (athena.galdonez@gmail.com) for any questions or concerns regarding registration.
This conference is a gathering of Filipino and Filipino American student oriented groups throughout the Pacific Northwest that come together to foster unity and pride within its attendees and surrounding community through educational, political, cultural, and social advancement.
It will be a weekend where these groups will hear key note speakers with established backgrounds, workshops from distinguished presenters, food from local restaurants, and all the while getting to meet and greet, build your communication network, and make new friends while staying in major hotels.
SAVE THE DATE:
We'll be updating this event periodically with new information as the time comes! Expect to see details on venues, workshops, keynote speakers, entertainment, food, registration, and much more!
ONLINE REGISTRATION:
Early Registration: January 8, 2012 – February 16, 2012
Payment: $80
Late Registration: February 17, 2012 – March 1, 2012
Payment: $90
For more information, please go to: http://nwfasa.com/