FASA Formal: Rock With You
This years FASA Formal will be held at the EMP in Downtown Seattle on March 3rd. Tickets are now on sale until March 2nd for $20 (UWFASA Members) and $22 (nonmembers). After March 1st @6PM it will be $25 at the door. More details provided in the link below.
If you need to purchase tickets, contact your friendly neighborhood UWFASA Officer or find us at our table on Red Square from 10:30AM to 2:30PM all week before Formal.
Remember ! There are only less than 5 days to purchase your tickets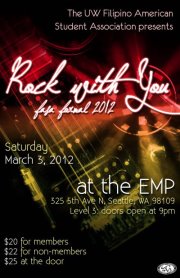 https://www.facebook.com/events/337202679647079/
UWFASA All-Stars Goes to Relay for Life
Relay For Life is a life-changing event that helps communities across the globe celebrate the lives of people who have battled cancer, remember loved ones lost, and fight back against the disease.
Contact your Community Service chair, Melissa Jubane for more information.
Link to General Meeting
https://www.facebook.com/events/254604281283478/
Link to event
https://www.facebook.com/events/220871061330652/
NWFASA Conference: Bagong Bukas: A New Tomorrow 2012
*UPDATE* 
Early Registration has ended, BUT registration is an ongoing process until March 5th for $90.00. Sign up now before it's too late!
https://www.facebook.com/events/199286766823907/
Filipino Night 2012
Auditions for Fil-Night are on going. Contact your Cultural chair, Gail Letrondo