The Gamma Phi Beta Sorority was established in 1874 with the intention to inspire the highest type of womanhood.  Today, we continue this mission, and aim to build confident women of character who celebrate sisterhood and make a difference in the world around us. We promote lifelong commitment, intellectual and personal growth and service to humanity; perpetuate our heritage as we commit to the growth of our sorority; foster enduring friendships; advocate ethical behavior, respect, authenticity, accountability, and integrity, and aspire to excellence in all that we do.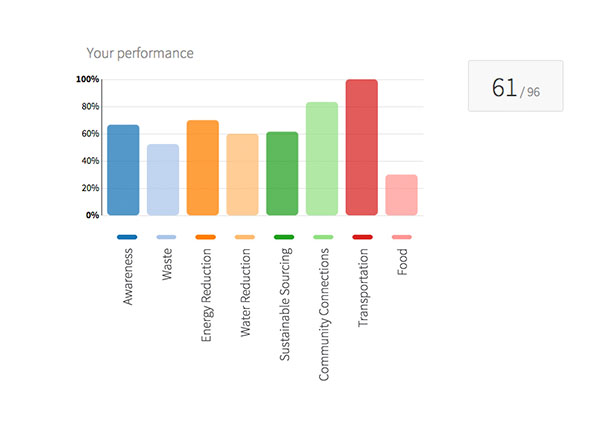 While Gamma Phi Beta has stronger areas, like for instance in transportation, we still have significant progress to make, most notably in water reduction and food.
Hosts a quarterly/annual clothing swap

 Active Green Chair Position

We have occasional updates on sustainability progress in meetings or on social media site

75% of bins have clear, explanatory signage

Lights are highly-efficient LED's and some motion-sensor lights are installed
 We have recycling bins spread throughout our house, but most recycling and trash are mixed. We only have one composting bin in our kitchen for our food waste.

No bathrooms have compost bins for paper towels!

No members participated in the Greek Clean-Up

No ENERGY STAR Appliances

Inefficient traditional 2.5 GPM showerheads
---
Current Project(s): Contributing to planning, organization, and fundraising for the Greek-wide Energy Challenge
Green Greek Representative: Maggie Hunger
Latest Sustainability Survey Info: November 2016
Other involved members: NA
Past Projects:
Worked on Community-Wide Energy Challenge
(Fall 2016, Maggie Hunger)
Future Projects:
Sustainable Shower Solutions: Reduce Shower Flow from 2.5 GPM to 1.5 GPM Create a Report on "Making the Business Case for Sustainability" to encourage stakeholders to implement sustainable solutions and to provide an example to other chapter's of what they could be saving Increase Sustainable Sourcing: Buy compostable or re-usable kitchen items (utensils, etc.) Additional Chapter Education on Best Waste Practices, Reducing Energy, etc.  Design an Energy Challenge for the Chapter to reduce overall energy usage
---
Maggie Hunger
I have always had a love for the outdoors, and conserving and protecting our environment is a huge passion of mine. Coming into the greek community and realizing how much work needed to be done led me to be involved with eco reps last year, and then becoming a green greek rep this year. I am studying communication and environmental studies, and cannot wait to keep working towards educating people and working on sustainability projects within our community.
Sustainability Action Plan: NA
---