The women of Nu Chapter are highly involved on campus and within our community. We are extremely dedicated to leadership, sisterhood, and academic excellence. AXiD is proud of the legacy established by our founders, and we continue to offer women opportunities to realize their potential. The experience of being a sister of Alpha Xi Delta has life long values, beginning as collegians and continuing as alumnae after graduation. With service, social, and sisterhood events, we receive the college experience of a lifetime.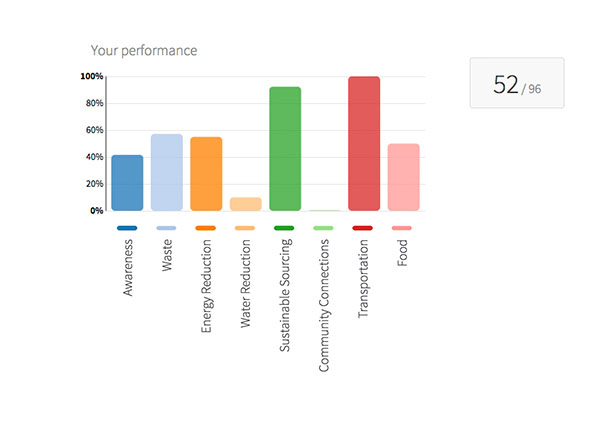 While DZ has stronger areas, like for instance in sustainable sourcing, we still have significant progress to make, most notably in Community Connections and water reduction!
Active Green Chair Position

 We have compost containers in all of the large bathrooms and one in the kitchen. Composting in the bathrooms seems to end up in the right bins, but we don't have recycling in the bathroom. In the kitchen we have posters telling people what goes in which container and people seem to respect that.

One ENERGY STAR Appliance (Kenmore-Elite refrigerator)

LED's primarily used!
No reminders for shorter showers (although efficient shower-head used: Moen Brand at 1.5 GPM)

No community connections (no clothing swap or volunteering for environmentally-focused organization)

No secure bicycle parking provided for members

Have never done a meatless Monday!
---
Current Project(s):
Green Greek Representative:
Latest Sustainability Survey Info: November 2016
Other involved members:
Past Projects:
Planned & Organized Greek Clean-Up
(Fall 2016, Maggie Heard & Caroline Sullivan)
Future Projects:
Sustainable Shower Solutions: Reduce Shower Flow from 2.5 GPM to 1.5 GPM Create a Report on "Making the Business Case for Sustainability" to encourage stakeholders to implement sustainable solutions and to provide an example to other chapter's of what they could be saving Increase Sustainable Sourcing: Buy compostable or re-usable kitchen items (utensils, etc.) Additional Chapter Education on Best Waste Practices, Reducing Energy, etc.  Design an Energy Challenge for the Chapter to reduce overall energy usage
---
None Currently
Sustainability Action Plan: NA
---