With summer time coming to a close, we at Green Greeks are so excited to welcome everyone back to campus and look forward to getting to work with all of our new and returning members this fall. We are so excited to announce that after two years of hard work and perseverance, we will be an accredited course this year while we dive into our third year of sustainability in the Greek Community. The Green Greeks Representative Program offers 1 credit to all of our members and up to 2 credits for our project leaders, which is an amazing accomplishment for us and we are so excited to offer this opportunity to our members.
Over the last two years we have learned a lot from our members and from those around us. We have seen over 150 representatives in over 50 unique major programs across the University of Washington with a Sorority participation rate of 84% and a Fraternity participation rate of 57%. We have seen fourteen different chapters save an average of $2,800 per year through sustainable water solutions: which is around $2ook savings in total. Currently, we are on track to save upwards of $500k in the next 5 years and it wouldn't be possible without the immense support we've received from our brothers and sisters campus wide!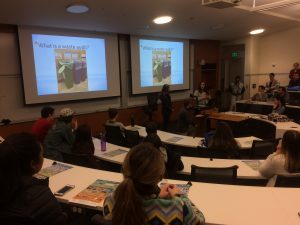 This year, we will be still meeting Tuesday's every other week starting on October 3rd. We have some amazing speakers and presentations lined up for this quarter and can't wait to share what we learn with the whole Greek Community. Since we are now accredited, our grading is based mainly on participation so that we can get as many men and women working to better our homes and our environment as possible. With that in mind, we are so excited to welcome new (and old) members to our new Green Greek course and can't wait to see what kind of positive impact we can have on the UW campus this year.
Check out the full course information here.
We wish everyone a successful first week of classes, Go Dawgs!