At our most recent meeting, the Green Greeks got to listen to an experienced speaker, JR Fulton, about his role in keeping the UW campus sustainable. He has been passionate about sustainable buildings as soon as he found out that without proper information and execution, buildings can be incredibly detrimental to the environment. He has worked with Housing and Food services for quite some time as an architect and previously spent time living in an Eco Village in Scotland. Thanks to JR's presentation, we were able to learn a lot from him about sustainability from an operational perspective.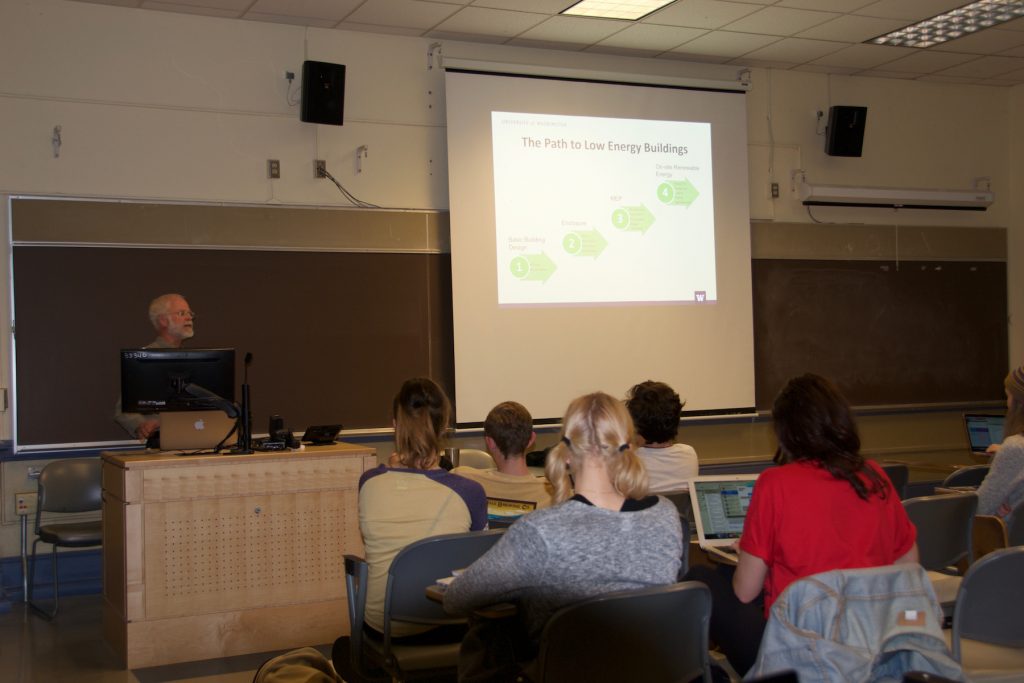 To construct a sustainable building, it's vital to understand the concept of resiliency. The building need to be able to respond to the climate and be future-proofed to be able to anticipate change that could challenge the design of said building. Sustainable buildings also need to have a high-performance ranking; they must be energy efficient, healthy, comfortable, cost effective to operate, and durable.
There is a sustainable building standard called LEED, which stands for Leadership Energy and Environmental Design. It is run by the US Green Standards Board. The University of Washington has 36 LEED accredited buildings on campus, which is something to be proud of! Mercer Court even has a rainwater system used for laundry; domestic water is not used at all when the system is working properly. There is always room for improvement, and our campus si already off to an amazing start.
So, how does one keep a building both accessible and efficient? Effective engineering. For example, it's not necessary to strictly limit hot water use, as long as the water heaters are efficient. It is the little details like this that increase the longevity of these buildings and inspire further innovation.
The trick, as JR explains, is to use every sustainable resource available.
These techniques are being implemented on campus, as we speak, in the North Campus housing construction
As far as the future goes, Fulton believes society will move towards eco districts, which entails an entire neighborhood that is hooked together energy-wise. The UW campus is an ideal place for this sort of system.
Thank you JR Fulton, we are so thankful to have you working towards a better future here on campus.