UW Program on the Environment
Starting Fall 2017, Green Greek Representatives will have the opportunity to earn credits for their work in the program. See the syllabus below for more details or click here:
2017 to 2018 Syllabus
.
Other Universities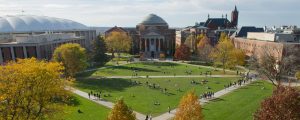 Less than a year ago in November 2015, the University of Washington launched the Green Greek Representative Program, an innovative program created to progress sustainability initiatives in their own Greek neighborhood and the surrounding Seattle community. The first of its kinds, the GGRP is comprised of one or more representatives from almost all 50 chapters on campus, truly creating a network of resources and leaders dedicated to tackling the sustainability challenge.
"This type of structure encourages commitment and accountability," said the Green Greek Director Talia Haller. "Rather than relying on volunteers who come and go as they please, creating a representative position adds an extra layer of responsibility and recognition that helps perpetuate progress!"   
With such a revolutionary structure and the momentum for sustainability initiatives on college campuses and within Greek communities on the rise, why isn't this new innovative sustainability model spreading? Guess what, it is!
In mid-July, Sustainability Stewards at Syracuse University reached out to the UW Green Greek Representative Program in order to learn how they could start a similar program in the Syracuse Greek Community. Like the University of Washington, a significant portion (about 20%) of Syracuse's more than 15,000 undergraduate students are active in the Greek community and live in Greek housing. Syracuse Sustainability Steward Taylor Brown sees great potential in implementing a similar program, "We currently have a huge lack of leadership in this area and that's something we want to change," she said.
While in different stages of the program process, both Universities are excited about the opportunity to collaborate and learn from eachother's Greek-focused sustainability programs. Thinking ahead, the Program Directors are beginning to explore the possibilities for competition between their two programs and how that can further incentivize their own communities. Optimistic about the program's potential, the Syracuse Sustainability Stewards are currently in the process of developing an action plan, timeline, and recruitment strategy for a Green Greek Representative Program similar to UW's.

UW-Farm
Some chapters have organized collaborative volunteer events with other sustainability-focused organizations. In line with our Inherit the Earth philanthropy, Sigma Kappa serviced the UW Farm's "Farm-to-Food Event" on October 22nd – some manned the pumpkin carving station, while others served food, ran the slideshow, and all took part in progressing the sustainability conversation.
Husky Neighborhood Group
It's no secret that waste is a big problem in some areas of the UW Greek Community, as well as other areas north of campus. This problem turns from big to BIG in the month before school starts (late August and early September) and the month after school ends (June). Students are on the move, transitioning between houses, apartments, dorms, etc. and in the process a lot of waste gets left behind or abandoned on the street as somebody else's problem. What's more, waste also piles up in disposal containers throughout the quarter, and cans and other trash gets haphazardly tossed into bushes.
Luckily, there are groups within the community who care a lot.
Husky Neighborhood Interns is a University of Washington program intended to create a stronger, safer, and more enriching community for residents. As the Deputy Director for Regional & Community Relations Aaron Hoard explains, this group of dedicated interns puts into action ideas generated from the North of 45th Effort, a platform for residents – students and non-students alike – to discuss neighborhood issues, including health, safety, sustainability, etc. In the past, the Husky Neighborhood Interns have organized Neighborhood Safety Walks, clean-up events (such as their "Touch Up Truck Hill" event last April), and even transformed a vacant lot at the intersection of NE 47nd and 22nd NE into an asset for the community, a park!
On August 31, September 7th, 26th, and 27th, the Husky Neighborhood Group in partnership with Seattle Public Utilitiesand UW's Office of Regional & Community Relations will host their Husky Neighborhood Cleanup! They offer FREE recycling, donation, and disposal of unwanted items. In 2008, when the event was first started, collected material from the Spring Husky Neighborhood Cleanup event totaled over 12 tons! In 2015, the Spring event generated almost 6 tons of donated items, such as books, household items, small furniture, electronics, and sporting goods, comprising over 50% of materials collected.
This year, a new player's getting involved: the Green Greek Representative Program (GGRP), a 70+ group of representatives from almost all 50 campus chapters who are dedicated to making the Greek Community a more sustainable place. While the group will heavily promote the August & September event, they are actively planning and hoping to collaborate with the Husky Neighborhood Group on a mid-quarter Neighborhood Cleanup Event for late November.
In November 2015, the GGRP was actively involved in the event and got 18+ chapters to participate. However, this year they want to take a bigger role in planning the event and have participation from all 50 chapters. "It's so important to keep our community clean," said Green Greek Director Talia Haller. "But it's almost equally important to foster positive community interactions between the Greek Community, other students, and other residents."
Both groups are excited about the opportunity to work together. "We're always looking for opportunities to work with students, especially Greek students because of the network, resources, and leadership their community can provide," said Deputy Director Aaron Hoard, who manages the Husky Neighborhood Interns.
UW-Solar
Two sustainability-focused groups at the University of Washington, UW-Solar and the Green Greek Representative Program, are collaborating on a project that has sunny prospects and dazzling potential. Essentially, the two groups will be working together to determine the potential for solar power in the UW Greek Community.
UW-Solar brings students and faculty together to carry out solar energy projects. The project tasks range from planning, governance, finance, design, development, economic, and environmental effects of infrastructure. These mid-to-short term solar power projects are small steps towards the long-run objectives of decarbonization, resilience, and information security.
Desiring to achieve similar goals, the Green Greek Representative Group works to make the Greek community a more sustainable place. So far, the Greek community has taken action to educate chapter members about recycling/composting, lighting efficiency, water conservation, and other general sustainability education topics. After focusing on many quick-fix problems, the Green Greek Representatives are now turning their attention to long-term projects.
Quoting myself, the current Director of the Green Greek Representative Program, from a May presentation: "Using too much energy and using energy inefficiently are huge problems in the Greek Community. We want to see what we can do to power our community more efficiently, bring down energy costs, and source as much of our power from clean energy sources as possible."
Pictured: UW-Solar student helping the GGR Program initiate the project.
The U-District, where the UW Greek Community resides, is powered by Seattle City Light. As of 2014, Seattle City Light already had a highly renewable fuel mix, including Hydro (90%), Nuclear (4%), and Wind (4%). Less than two percent of energy comes from coal and other fossil fuel sources. Yet many energy customers are still pursuing solar energy too close this small gap, as well as additional benefits like paying less for energy in the long-run or getting paid for your electricity.
Solar power in the UW Greek Community has many additional perks. "The greatest benefit of this collaborative project is the potential for student engagement," said Stefanie Young, the leader of UW-Solar. "The Greek Representatives involved with this project will gets hands-on experience working on a real-world energy project: they will be collecting data, preparing the feasibility audit, securing funding, facilitating construction management, as well as educating their chapter members."
Through the summer, the Green Greek Representative Group is working to collect data from all 54 chapter houses, including roof plans, electricity information, and the age of the roofs. Come fall, UW-Solar will use this data, and the continued help and support from the Green Greeks, to conduct feasibility studies that answer questions such as: Is solar even feasible on chapter house roofs? Is it cost-competitive with what chapters are currently paying in energy costs? What will the return on investment be? Will solar power reduce greenhouse gas emissions, and if so, by how much? What would be the best system given project type/location? What are the funding possibilities? How will energy be monitored to quantify the success of results?
Depending on the outcome of the feasibility reports, the Green Greek Representative Group and UW-Solar will then work to determine the next steps. Regardless of whether solar power turns out to be feasible or not, this opportunity is a chance for collaboration, education, and dawning discovery.
Students
The Psychological Barriers to Composting in UW Greek Housing, a student research project by Mercedes Stroeve
A UW senior used the GGRP to gather data for her research for Seattle Public Utilities on creating an outreach strategy that encourages tenants to fully transition to composting and other best waste practices.
Mercede's Project Abstract: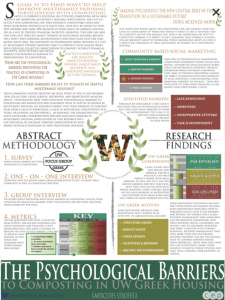 Seattle is currently focusing on citywide composting with high priority on improving multifamily housing participation. The city enacted a composting law that prohibits compostable food and paper from being disposed of in waste bins. Fines were previously being issued to property owners who have 10% or more of food waste in garbage containers as a way to provide financial incentive. However, this law and fine does not directly impact tenants in multifamily housing because they don't have personal accountability for what goes into the communal waste bins. The University of Washington Greek housing is a type of multifamily student housing that is currently faces similar issues with creating collective participation to compost. Without financial incentive, both settings are facing various psychological barriers to transitioning to composting. What are the psychological barriers preventing the practice of composting in UW Greek housing? How can these barriers relate to tenants in Seattle multifamily housing? The communal nature of Greek housing provides an ideal point of focus for information collection. Using surveys, interviews, and quantitative measurements, investigated how these different psychological barriers to composting are manifested and compared them to Seattle residents in multifamily housing. My research shows that these barriers to compost stem from a lack of knowledge, an absence of motivation, unsupportive attitudes, or general inconvenience.  In response, the researcher suggests sustainable interventions for low and high barriers in multifamily housing. Implications of this research include potential to increase compost participation by informing outreach programs in non-traditional housing.
Check out the Final Presentation, the 55-page Full Report, or Mercedes Project Site.
See Mercedes article on her time working with the Green Greek Representative Group!

UW Biodiesel Cooperative
The UW Biodiesel Cooperative, a group repurposing leftover cooking oil into an alternative fuel supply, is setting up a collection system to use the Greek Community's leftover oil.