Coming to you live, on April 20th, catch your favorite Green Greeks for a Pizza Extravaganza you won't want to miss! Catch us on the 17th Ave Median between Beta Theta Pi and Alpha Epsilon Phi. Not only do you get the chance to help your very own community improve our sustainability, but there is plenty of opportunities to enjoy yourself in the process.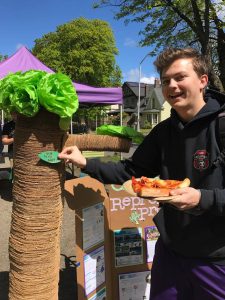 We'll be serving up pizzas from 12pm to 4pm, $2 a slice and $3 for two slices. Pizza options include Cheese, Pepperoni, and Hawaiian. Plus, no extravaganza would be complete without activities. We'll have a water pong trivia game where you test your knowledge on sustainability and learn some cool information in the process. Additionally, you'll find the classic corn-hole game that no outdoor event is complete without, and you can toss a frisbee into a compost bin and see how easy it is to compost in your everyday life. If simply playing games isn't enough for you, winners get a BOGO free pizza card, courtesy of Pagliacci Pizza!
After playing games all afternoon and learning about ways you can help our Greek community become more sustainable and eco-friendly, we'll have the opportunity for you to take the Green Pledge and become a part of our cause. Your pledge will become a part of our photo booth background where there will be plenty of props for you and your friends to pose with! Post your pictures on social media and use the tag #UWGreenGreeks to help spread the word. The best way to help your community is to get involved, so make your 4/20 productive and join us for pizza and a good time, we can't wait to see everyone there!