During Winter Quarter 2017, the Green Greek Representative Program has seven exciting projects, many of which are primed for success! A few projects are continuations from Fall Quarter 2016, including the Waste Right Project which is working to reduce and divert waste in the Greek Community.
The Comprehensive "Waste Solutions Package"
But they're not working alone! In fact, the Waste Project Team has been working with a team of experts from local companies and utilities to roll out a comprehensive, money-saving "Waste Solutions Package" for Chapters. The list of experts involved includes Commercial Recycling & Composting Program Manager Pat Kaufman, Director of Solid Waste Compliance at Seattle Public Utilities Sally Hulsman, Waste Zero Specialist at Recology Elizabeth Szorad, and Solid Waste Field Inspector Brenda King. So far, four chapters have acted as case studies for implementing and making the business case for waste solutions: Alpha Chi Omega, Chi Omega, Delta Chi, and Sigma Kappa. On Tuesday, January 24th, the Green Greek Representatives, led by the utility experts, did a waste audit of these chapters and four others to learn more about how to implement a Waste Solutions package within more chapters.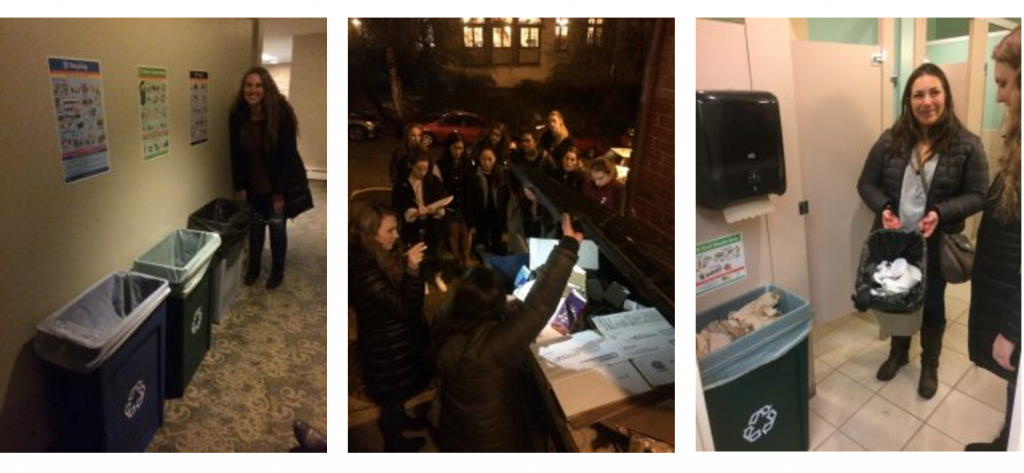 Essentially, the waste management plan is a three-part approach to improving a chapter's waste habits:
Phase One:
First, the Green Greek Representative will create a Waste Solutions Plan for their chapter. This entails creating a strategy for the implementation of recycling, composting, and waste disposal bins for all main areas, as well as acquiring the respective bags that will be needed for the new bins (i.e. green compostable bags and clear recycling bags), explanatory signage, and transitioning to sustainable materials (utensils, to-go containers, paper towels) so that most, if not all, household materials can be recycled or composted rather than thrown in the trash. In some cases, it might also include a plan for smaller recycling and composting containers for individual rooms to encourage sorting and stop chapter members from simply taking all the garbage they accumulate in their room and dumping it into a main trash bin. The plan will include the estimated costs and sourcing options for all necessary supplies, as well as a timeline.
Phase Two:
While the Waste Solutions Plan is being developed, the Representative will work with a Solid Waste Field Inspector from Seattle Public Utilities to set up the best pick-up schedule. For example, instead of getting the trash picked up Monday through Friday, the chapter may be able to have the trash picked up only two days a week by adding on two additional recycling pickups (which are free). This can reduce waste costs significantly. One fraternity's current service levels was as follows: two 2-yd garbage dumpster pickups on Monday, Wednesday, and Friday, which cost $1848.48 per month (2 Dumpsters x 3 pick-ups per week x $308.08 monthly cost of 1x per week pick-up) and one 2-yd recycling dumpster with one pickup, which was free. The recommended version was one 2-yd dumpster with four pickups per week at a new cost of only $1232.32 per month (1 Dumpster x 4 pick-ups per week x $308.08) and the one -yd recycling dumpster picked up three times per week (still free). The total yearly savings would be more than $7,100. On top of that, the Chapter has the potential to eliminate enormous fines it has been receiving for not recycling/composting correctly and for having waste outside of the specified bins, which totaled more than $485 from September to December 2016.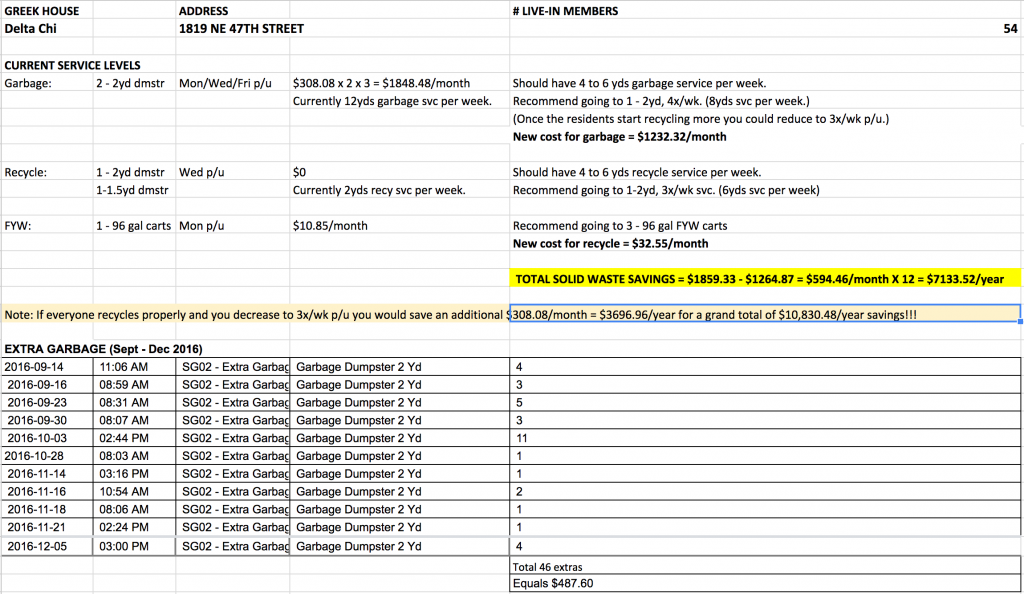 Phase Three:
As the Waste Solutions Plan and new pickup schedule is implemented, the Representative must focus on creating an educated and respectful culture around the waste reduction efforts. This includes educating the Chapter on best waste practices through one or more Chapter presentations, putting up signs and reminding people on Facebook, and making the business case for waste reduction and diversion very clear.
The Big Gr$$n Barrier: Getting Around Up-front Capital Costs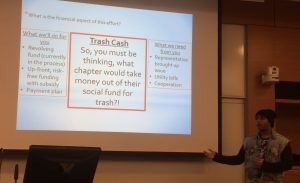 One of the biggest impediments to implementing a Waste Solutions package is the cost of the bins (one recycling slim jim is about $30, multiply that by 10, and you're looking at $300 for recycling bins alone). This is of special concern because many Representatives wanting to make the changes fear that their chapters might not even use the bins and the investment would be wasted. In order to help Representatives pay the upfront costs of implementing a waste solutions plan, the Green Greek Finance team is working to create a low-risk loan system in which Chapters would receive and implement a full waste solutions package (including bins, signage, bags, sustainable kitchen materials, and a chapter education presentation) at a subsidized price, which would then be paid out of the savings the chapter sees in their waste utility bill over a specified time period.
Given that one fraternity expects to save over $7,500 in one year from the implementation of their waste solution package, whose upfront cost was $830, the return on investment is unquestionable. In fact, the net present value of such an investment (assuming a relatively high discount rate of 10%) is over $27,000 within 5 years. Now, that's real savings.