This week, Karen Baebler, assistant athletic director at UW, payed a visit to the Green Greeks to speak about her the sustainability efforts in the Athletic Department here on campus. Karen has worked in the athletic department for over 20 years. She started the green initiative within the department in 2012. It was inspiring to hear from her experiences at a place we all know and love: the Husky Stadium!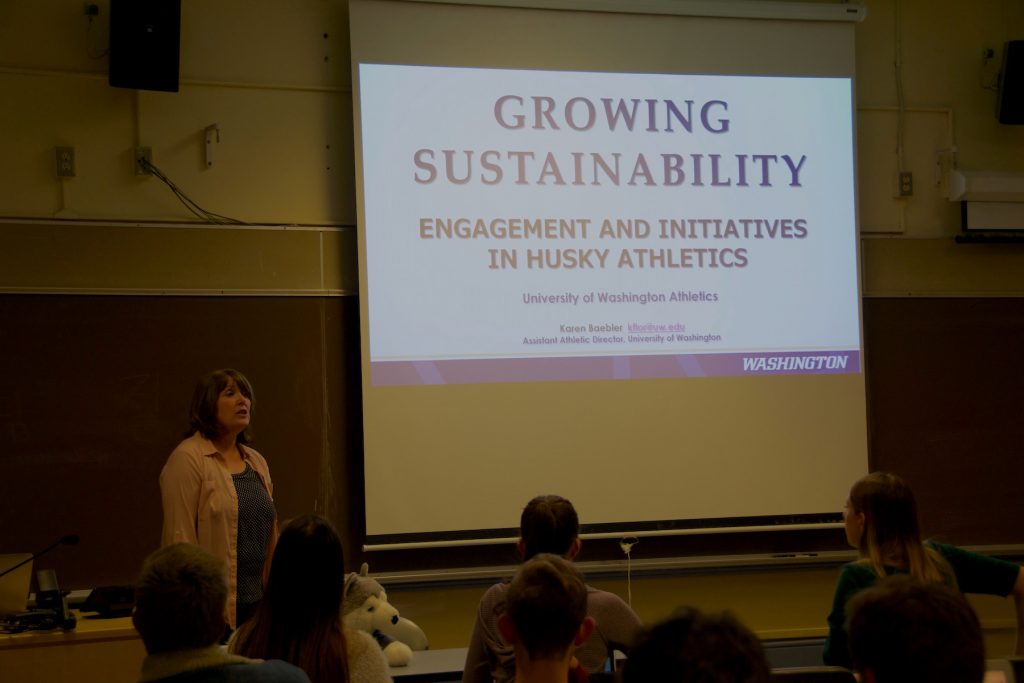 In 2012, with the renovation of Husky Stadium, sustainability in the athletic department was in full bloom. The architecture department was very versed in sustainable building, and the department wanted to become LEED certified. During the renovation process, 95% of the materials used were recycled on-site or off-site. For example, the old field is now used at Montlake Park.
Following the course of sustainable practice, the new stadium now utilizes a two-stream waste system to maximize correct bin placement. The primary initiative at the stadium has been waste diversion, as thousands of people use it on a weekly basis during the football season. In 2005, there was no compost at all; 85% of waste was garbage. Now, the stadium has conquered a 15% garbage rate, the rest being compost and recycle. Clearly, some great steps have been made.
As for future plans, Baebler plans to implement LED lights in Dempsey. She also hopes to install solar panels on the stadium, which could potentially power the entire stadium for the football season.
There are several ways students can get involved in green initiatives at UW, including capstone projects, ENVIR480 (a class involving an action-learning component), UW solar, and many more. We were so grateful for your guidance, Karen!
Finally, the Green Greeks had our elections for our 2018 executive board. We are so excited to welcome our new Director, Sasha Gordon to the team! Congrats Sasha, we can't wait to see all that your bring to our group this year and how you plan to bring sustainability to our community.