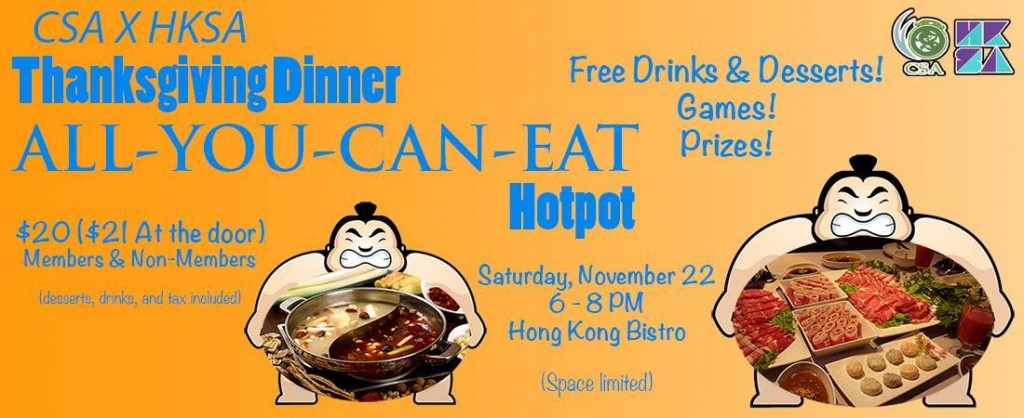 Thanksgiving is just around the corner~~ and we want you to come and celebrate it with the CSA and HKSA family as we will join together to have an ALL-YOU-CAN-EAT-HOTPOT in this cold weather with your favorite hotpot food! It'll be a great bonding event between our officers and members as we'll join together as a family to spend this wonderful holiday together. There will be GAMES and PRIZES for you, so don't miss out on it! It will be a fun night so bring your friends along and come and meet new people as well in our two big families.
Date: Saturday 11/22/2014
Time: 6pm-8pm
Location: Hong Kong Bistro (China Town)
Price: (including Food, Drinks, Dessert, and tax)
Pre-Sale: $20 (Members and Non-members)
At the Door: $21
We will be selling TICKETS at the CSA and HKSA booths. Come find us at Red Square from 10:30 am to 2:30 pm Monday through Friday!
*** We will be collecting tickets at the door in Hong Kong Bistro so you MUST have your ticket to enter. KEEP YOUR TICKET IN A SAFE PLACE AND BRING IT WITH YOU!!***
If you don't know where Hong Kong Bistro is, don't worry! We will have officers waiting at the bus stop on 41st & University Ave to head over there with you! We will depart every 15 minutes from 5:00pm to 5:45 pm. Do keep in mind that it may take around 30 minutes to go to China Town on Saturday's bus schedule so come early!
Save the date and your stomach to join us for hotpot! See you there!
To stay updated on our event, RSVP to our Facebook Event below:
CSAxHKSA Thanksgiving Hotpot Night