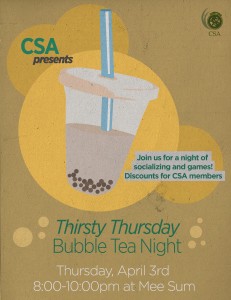 We hope you all had a wonderful Spring Break! Tired of school already though? Just throw back and relax by coming to Mee Sum tomorrow for some Bubble Tea! We are going to have some awesome games and prizes! It's never too late to meet new people or just relax and enjoy the fresh new quarter! If you can find more information about the event here. Also make sure to attend the Facebook event so all your friends know!
We also wanted to give a shout-out about a voting contest CSA is trying to win hosted by Identity Seattle Apartments. You can vote for your favorite organization (*cough* Chinese Student Association *cough*) on Identity Seattle's Facebook Page . If we win, our organization can win up to $1000 in funding which of course all goes back to the members! With this money we can buy even more prizes or reserve even better venues for you guys. We highly encourage everyone to vote!
We hope to see you all at Bubble Tea Night! Don't forget to vote!