FRIDAY, Offically its starts at three but I did not get off of work till 3:45 so I will start their. Crusing down lake city on the way home I heard a good block by No Doubt
which was sweet there were a few other good block but none i remeber too well.
Once home i email new climbing partner to say his plan sounds good since he did not leave his phone number and leave my phone number.
Discover my parents have rented paycheck
which I'm sorry to say has to be the worst movie ever. the storyline was good but everything else made we want to
I also discovered that Uma Thurman
who is super hot in batman, kill bill etc looks like this
Saturday I wake up and watch touching the void
which is okay have to tell my parents that I have never climbed anything like that, which is true but still uneasy going. Then head down to the bank to make a deposit
oh sorry i honestly meant this kind
Return home thinking partner should have called by now since we need to leave in a few hours. No calls, check email, some bs about my not responing so he found another thanks
Kinda f*$#ed I think about putting apersonal in the stranger
While that would work for me I suppose I was thinking something more like
SWM in search of uninjured Ralph Bodenner clone, no family a plus, for nonsexual alpine climbing relationship
eventually make plans with Josh to climb at Wa Pass on sunday. Leave my house at 5 and arrive at 8. heard a good block by offspring on the way up. Dj calls them punk, WTF? I suppose I'm not down with the puck seen.
8:45 Josh shows up I enjoy my half hour
We make plans to climb the west face on north spire after Josh has already climbed everthing easier that on my ticklist.
Hey Josh how about South buttress on cuttroat
"done it, why want an easy day"
"no looks fun, how about EBD on South spire"
"done it"
"how about nw corner on north spire"
"done it, but I haven't climb the west...."
and there you have it
route climbs obvious thing crack at the center of the face.
The climb goes well. I hang on the crux a couple times but am able to free a large percentage of the pitch. AHH AHH fouled you into thinking i was a good climber. the pitch is only 40ft so freeing a large percentage of the pitch could mean freed less than 30ft of it. It was a fun route not that if you get to lead pitches 1,3,5 you will lead 85% of the distance since pitches 2 and 4 are only 40 ft each. The 5 pitch is the obvious one in the photo and is a sweet 5.10- finger crack, rock on, here is a shot of me following it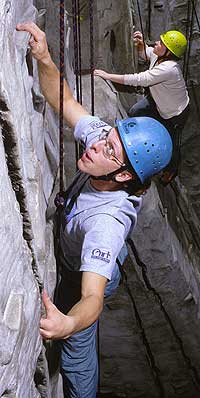 Rack included a set of tcu's, friends 1.75-3, one red and two yellow camalots one would have been fine, also a set of nuts with a couple extra small nuts. Small cams and nuts are pretty
on this route
on the way home the young and the restless took over for blockparty weekend so I will end my tr.
Noting that I did not hear a Blink 182 or green day block sweet
but aslo did not hear a Bad Religon or Pennywise block
[/list]