Inspired by Sarah's TR, Mel and I headed up to Squamish on Friday night to climb Rambles, Diedre, and Skywalker. We left Seattle around 7PM, hit Everett traffic, made a quick stop at duty free for some beer, then hit Highway 1 traffic (they are doing major construction next weekend too). We finally rolled into the campground around midnight, set up our tent, had some beer, then passed out.
We got up around 7AM the next day to try and avoid lines, which actually worked out pretty well. We started up Rambles around 8:30, and didn't have to wait at all. When we started, there was one other party on route, but they were starting up the third pitch so it wasn't a problem. The climbing was fun, with just a few sections of slab that were a little bit interesting. It was a great way to start the day before the more challenging Diedre.
Pitch one of Rambles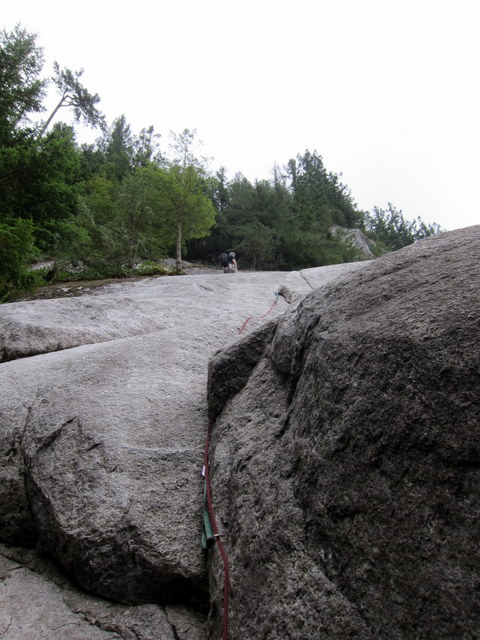 Pitch two of Rambles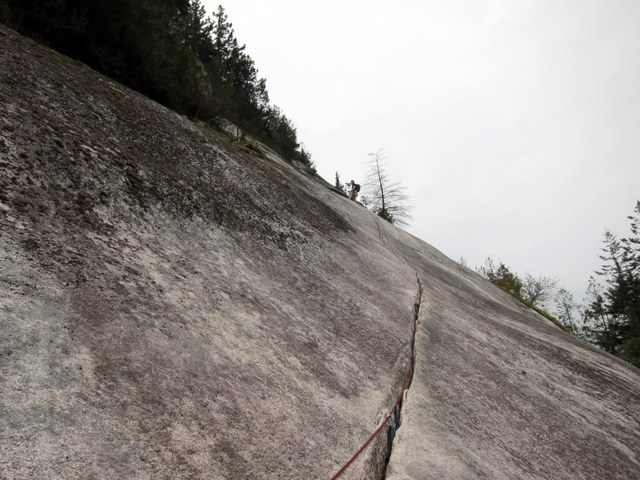 Pitch three of Rambles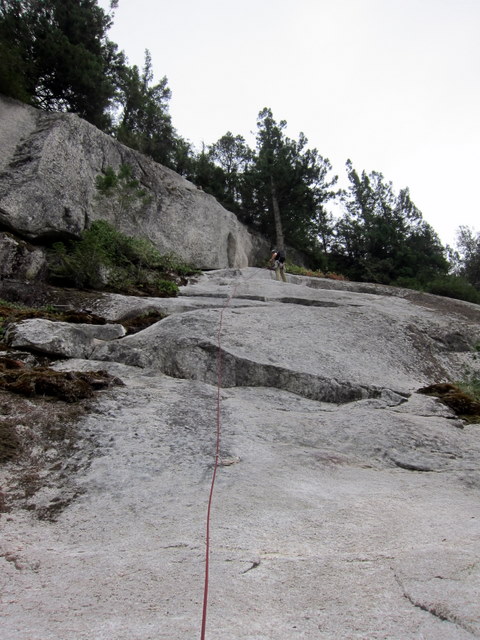 Pitch four of Rambles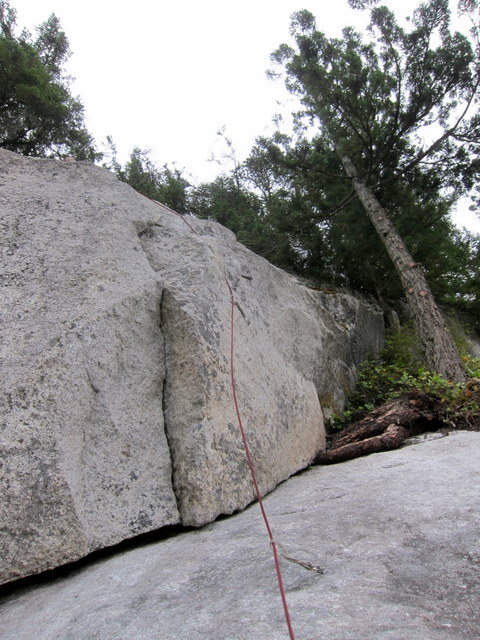 At the base of the lower Apron, we started to feel a few drops of rain, but they quickly stopped, so we decided to give Diedre a go. The first pitch is a long unprotectable slab. It was really nice to have already climbed a few pitches, otherwise it would have been an interesting start to the day. After that, you make your way left along a crack until you get another bit of unprotectable slab and then easier climbing above. The second short pitch was (you guessed it), more unprotectable slab! The first few moves are the toughest, so it really wasn't that bad. The third and fourth pitches are the crux of the route. I was able to pull what I thought was the first crux (getting over the overlap on the third pitch), but had to resort to one move of C0 on the fourth pitch where the crack kind of petered out to tips and the angle steepened. I thought the fourth pitch was a bit harder than the third. After that, we cruised up pitch 5 with the climbing becoming quite fun climbing after an initial harder bit. Pitch six is easier, but the protection is pretty bad. I got two marginal c3's in. At the crux top, there is an old fixed pin and it takes really good gear a bit above that. All in all, a really fun route.
Looking up at the two crux pitches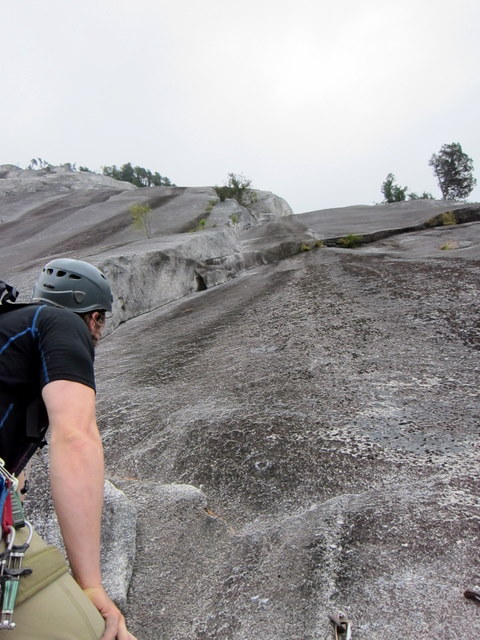 Start of pitch 5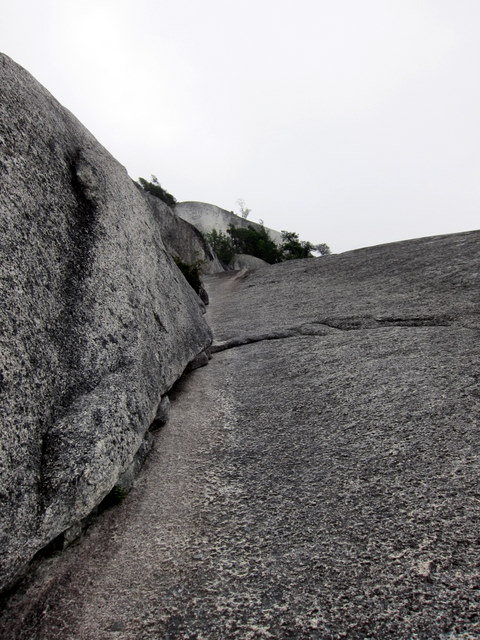 Beautiful view of Howe Sound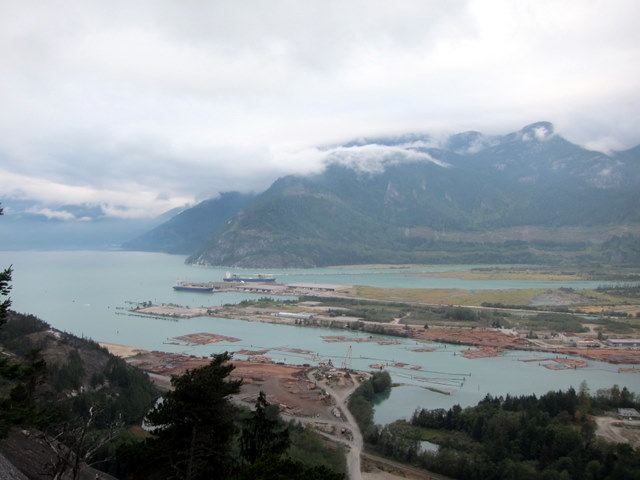 After the crux of the route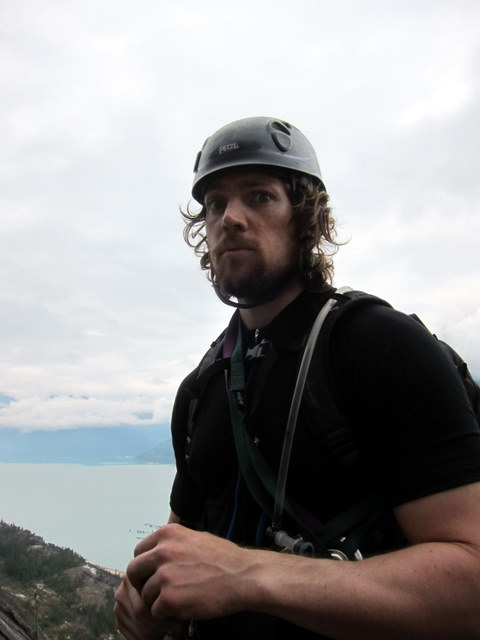 Happy Mel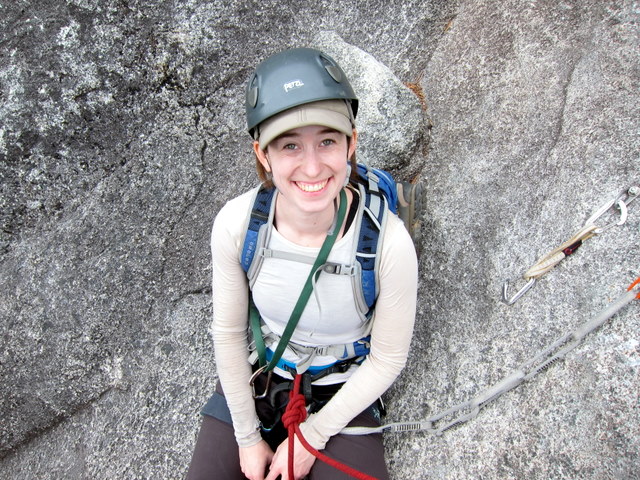 Always play with fun Canadian candy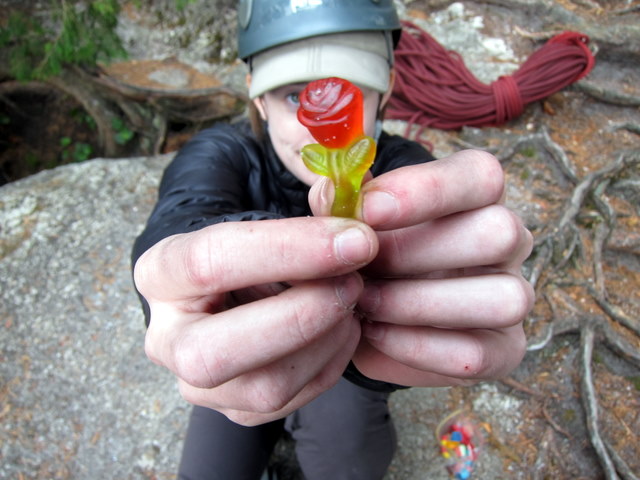 After that, we followed the trail down and headed into town for a beer at Howe Sound brewery (Awesome!), and then back to camp for some beer and cards. We met a fellow Seattleite (Jon), who was there by himself so we played a bunch of shithead (card game) and drank beers with him. We also met a couple of really cool Irish guys and chatted with them until around 10PM when we couldn't stay awake any longer and headed off to bed.
We got a late start the next morning, and after a quick stop by starbucks for some caffeine we parked at the Shannon falls parking lot and headed up to skywalker. We got lucky again with the route timing, as there was a party above us finishing the second pitch when we started so we didn't have to wait. There were 4-5 parties behind us after we finished the first pitch. I thought the first pitch had a bit of a tricky start, and after missing a good opportunity for gear lower down, I gave myself a good scare that I was gonna deck if I didn't get a piece in. Fortunately, I was able to make another move to a better stance and put it in a piece. Above that the climbing eased until a slab traverse (kind of the theme of the weekend) and some easier climbing to the top of the second pitch. The second pitch is STOUT. I pretty much had to hang my way up the first third of the route (partially because of technique, which I figured out later on). Small cams are kind of a must. I had doubles, and I probably could have used triples (but I like to sew it up a bit on harder stuff anyway). The climbing eases off a bit after a steep part and was a bit more fun. I'm not sure I agree with 5.8 for that pitch, I've climbed easier 5.8 at index which I think says a lot. Pitch 3 is harder than it looks from below with a quite spicy exit move. I found that it protected well with a .3 and red c3, but still a challenge. The skywalker pitch was pretty neat, and the last pitch was an easy climb up slabs after an initial bulge.
When you get to the top, make sure to visit Shannon falls pools!
Start of Skywalker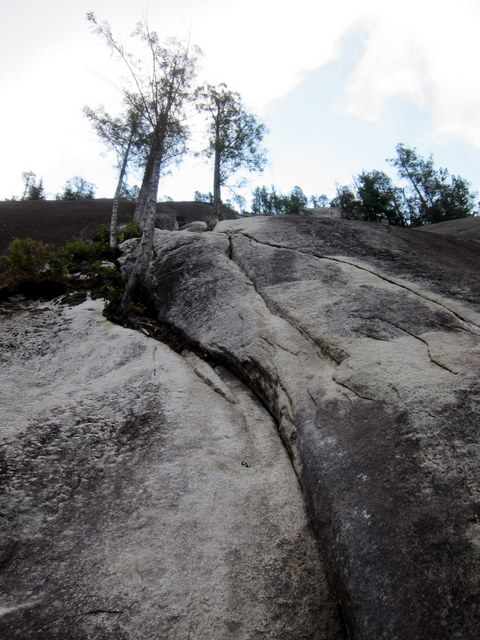 start of the third pitch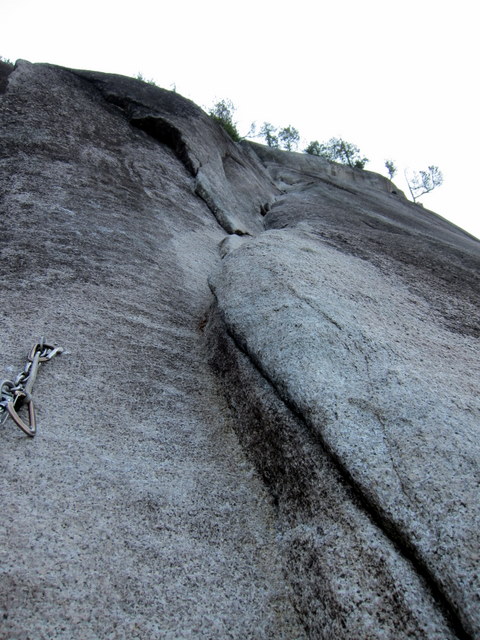 Belay before the Skywalker pitch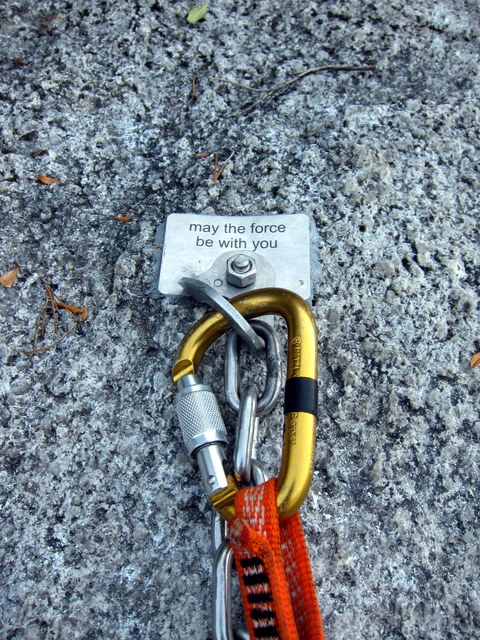 Skywalker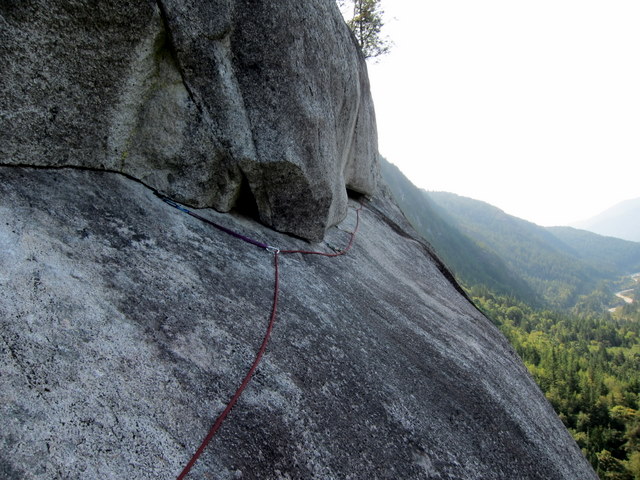 Shannon pools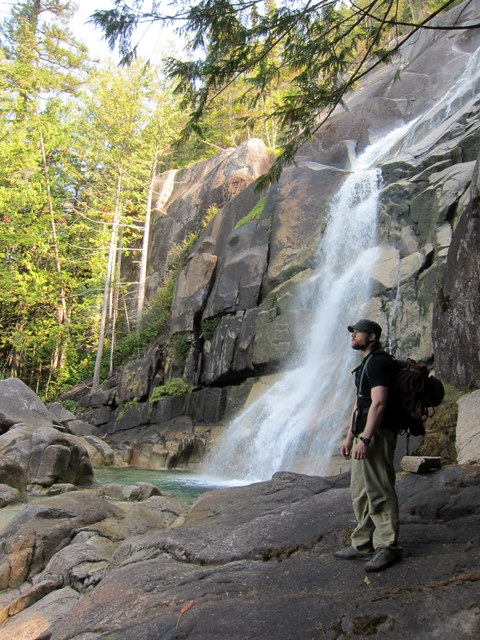 Peanut butter, Jelly, Nutella, Reeses Pieces for the win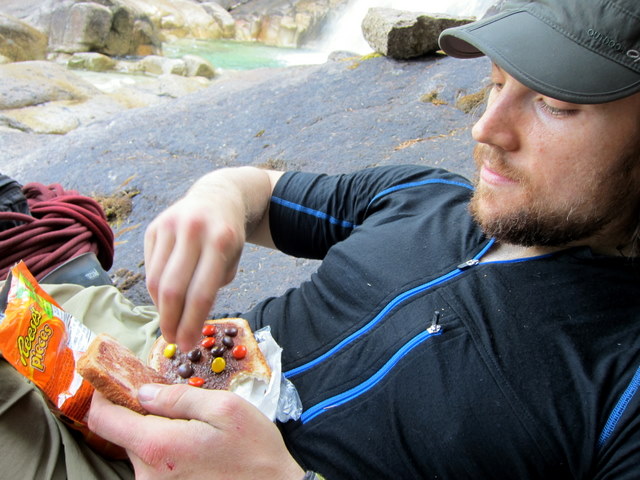 After the pools, we headed down the trail where Mel managed to get stung by a wasp (Ouch!). It was around 1:30, and there was already someone on Klahanie crack so we decided to go home. Pretty smooth sailing on the way back. It was a wonderful weekend spent climbing with my lovely wife! Thanks for the inspiration Sarah!