two years ago Aaron Z and I tried to climb dreamer on a marginal forecast. We got about halfway up, but Aaron wasn't too psyched on the run out style of climbing, and it started to rain, so we decided to bail at the start of the blue crack pitch. Last year I went back with an even worse forecast, hiked out to the creek crossing in the rain with hopes of clearing, but to no avail. Finally last saturday I got a chance to climb the whole route. My partner, Matt, recently developed a painful back problem, so initially he was looking for a shorter day, but somehow between Thurs and Fri things changed from "I'd be dragging ass on Dreamer" to "You could talk me into Dreamer". Under beautiful blue skies and reasonably cool temps Saturday morning, I made the suggestion again. Around Arlington we decided to give dreamer a go.
The road was pretty good getting out there, but definitely pushing the upper limit of what I'd like to do in my wife's reasonably nice subaru outback. There were a few low branches we moved out of the way, and one large puddle that we took a running start at to ensure we didnt get stuck. A low clearance 2wd that you give a damn about would probably need to stop about a mile earlier than we did.
The approach out was uneventful. Some big downed trees on the trail, and the river crossing was flowing pretty good, but no real problems. We took a short snack break on a nice slab in the upper wash, then proceeded on with the approach. The approach is pretty fun because it involves grabbing trees in places to pull yourself over steep hills, as well as some enjoyable class 2 scrambling. At the base of the wall, there was still some seepage from fridays rain, but it looked doable, with dreamer direct - urban bypass providing the most dry line.
Matt led out and we simuled a psuedo pitch and pitch 1 (runout but easy slab). 2 years ago, Aaron led pitch 2 which I remembered being a bit funky, but I actually found it quite enjoyable this time. Possibly a result of having a bit more slabby darrington style climbing under my belt. Last time I beleive we weaved between protectable features, however this time a fairly direct dihedral provided enough options.
Matt on P2
Next Matt led P1 urban bypass, which he had followed before, but never lead. He hiked it past a moderate runout between the 3rd and 4th bolts, but was stymied at the crux move. By making a somewhat nerve racking (for the belayer and climber) traverse out left, he was able to skip the hardest moves and make the anchor free (it would also have been possible to french the move, but he sacked up instead). I followed the pitch, falling once at the crux before figuring out the proper sequence. It is a one move wonder, but it seemed pretty thin.
Matt on P3
Me at the crux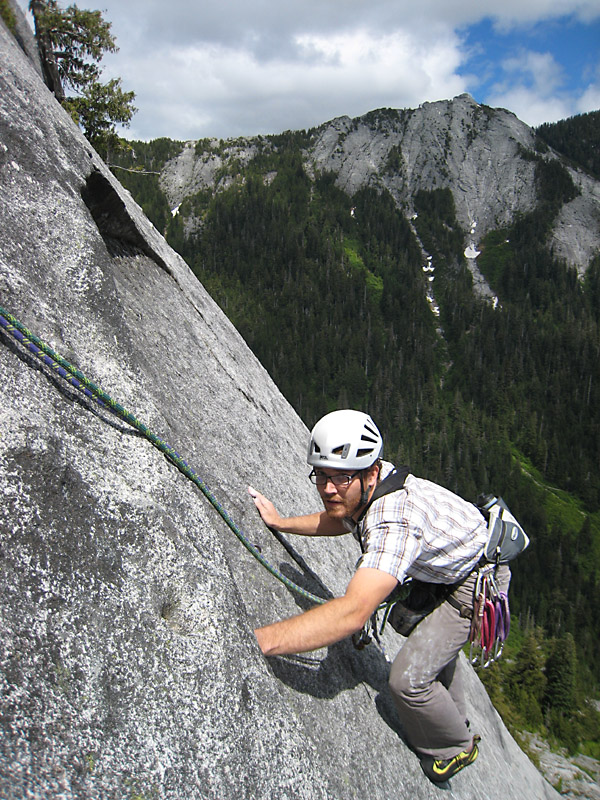 The next pitch is great. Not too hard and it actually seemed that scariest moves came after it intersect the regular 4th pitch. Apparently the last few moves to the belay used to be protected by a pin, but I had to settle for a manky 00 tcu placed high and right.
Matt set off on the next pitch which gives a choice of unprotected 5.7 or slimy awkward 5.9. Matt started out the 5.7 runout, but his lack of recent climbing urged him to backoff. I offered to give the slime a go and made slow overprotected progress through the worst of it. Again, you'd think this pitch would be bad, but it was pretty enjoyable with great pro. It finishes in a sweet dry dihedral, so it was hard not be smiling at the belay.
Arriving at the belay, Matt was feeling a bit tired so we decided that I would lead the next two pitches too. This was quite fortunate as the next two pitches are outstanding. Matt commented that there aren't two better back to back 5.9 pitches in the northwest. I think I'd have to agree.
The next two pitches make a fine finale. Great knob climbing with occasional positive holds. A few small runouts again, but nothing dangerous.
One last mediocre pitch finishes the climbing, however the last pitch is quickly forgotten when taking in the views of Three Fingers, Glacier Peak, and a sea of monstrous granite.