Pictures of aid climbing are more boring than pictures of bouldering, so I didn't take any. Instead, I will explore the Eric Gratz-style "images.google.com"-form in the following TR.
For reasons too sordid and numerous to enumerate, but mostly having to do with my inability to plan more than a day ahead, I had no partner on Saturday. So I lounged around the house until I couldn't stand it anymore, then packed up a big sack full of doodads and widgets plus four liters of water and stepped out into the scorching, Texas-like heat:
I got to Index around 5pm and hiked the brutal two minutes to the base of the Lower Town Wall. There weren't many people there, so I tied off a tree in front of Japanese Gardens (a popular free route) and festooned myself with gear, intending to aid the Stern Farmer.
I tested out my solo belay device (a Soloist) by hanging on my first piece and it seemed I had rigged it correctly. The first part of the pitch was awkward for aiding. Below the first bolt, there's a mantel move where Jap Gardens moves left; that kind of free move still weirds me out with aiders dangling, ready to trip me up. The rope wasn't feeding smoothly through the Soloist, which would cost me much extra time and effort the rest of the climb.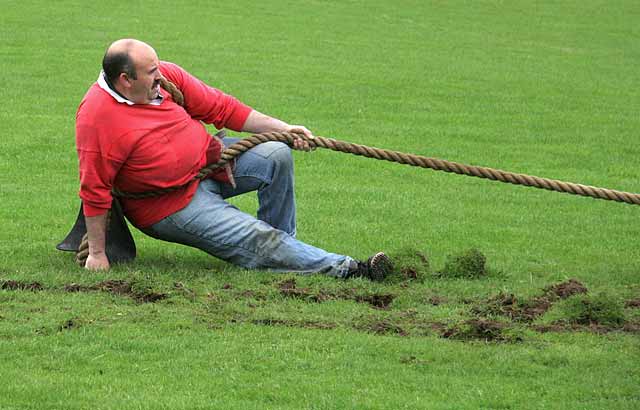 Above and right of the bolt, in the thin corner crack that makes up Stern Farmer's first pitch, there's another mantel ledge. I tried a three-pronged BD Talon hook in a couple places on the ledge and moved up onto it:
*Ping!* I was now hanging comfortably from the bolt again. The party that had just arrived around the corner gave me a funny look. I tried a cam hook next, wedging it into a little diagonal seam next to the ledge:
This one held, so I stuffed a yellow Alien into a squarish pin scar above. Only two lobes were really in there, but they looked OK and felt solid. Step up, *rip!*. This time I hung from my daisy chain, still attached to the cam hook wedged in the seam. I was pretty impressed with the cam hook idea at this point.
I flipped the Alien over and got all four lobes mostly in this time. Then it was off to the races... except for the constant fiddling with the Soloist, trying to get the rope to feed smoothly. I had to stop at nearly every piece and yard on the rope at my waist to give myself enough slack to ascend. Even though I put a cam hook in almost every other move on the upper part of the route, it still took me at least two hours to climb less than 100 feet. Fun!
I was relieved to reach the anchor, fix the rope, and rappel. I can't remember the last time I was so completely drenched in sweat. Underneath my kneepads, my pants were soaked to the ankle. My t-shirt was fully saturated. My shoulders ached from taking the strain of pulling the rope through the Soloist. I hadn't been this worked in a long time.
I'm sure I did something wrong rigging the Soloist, but I haven't figured it out yet. It did hold my falls, so nothing was fundamentally wrong, but pulling against the extra tension sure made for an exhausting ordeal in the ninety-degree heat.
Unfortunately, this was not waiting for me at the car to hose me down: