After a long debate over what 30% chance of rain really means, Steph and I departed on our first Canadian climbing journey Thursday afternoon. Things get strange across the 49th, my friends.
Things were uneventful, though traffic kind of sucked until we rolled into Squamish and drove through the campground at the Chief, recieving the evil eye from all the cool kids sitting on bouldering pads in the middle of the damn road eating probably tofu or otter stew or something out of pots looking at us like assholes for not being able to camp there all summer like they were.
Our second plan was to roll up a forest service road where we heard we could bootleg. While cooking dinner we had bikers roll by and a couple walk their dog up, see us, and turn around. So much for our secluded secret bootleg stop. We got in the tent and it started to pour, then a mountain biker decided to drive up and camp 10 feet away from us when he had 3 miles of Forest Service Road to choose from. WTF?
We awoke to clear skies and drove to the adventurous tourist centre to find other campgrounds. We ended up getting a cheaper $15/night spot on a manicured lawn between the baseball field and the aquatic centre at Brennan district municipal centre leisure centre thing.
After setting our tent up to dry we were finally off to climb. We did about six routes at Smokes Bluffs, don't really remember what they were called, but I think they were mostly fun.
That night the entertainment was a raucous group of softball players camped across from us singing bad classic rock all damn night. Sweet Home Alabama? You live in frickin' British Columbia!
The next day we climbed Diedre, a six pitch 5.8 that was pretty damn sweet. Slab runouts and fun dihedral cranking.
We returned to camp to find the couple from hell had moved in next to us and were already hammered. The following scene serves as an example of their marital bliss, which only grew better as the night progressed:
Lady strolls by in shirt that looks like a poncho made out of a fishing net. Drunken neighbor lady exclaims, "That is a beautiful shirt, where did you get it?"
"At a thrift store, I love to shop at thrift stores."
"I would buy that shirt from you for $60 right now!"
"You got it, see if it fits first.........it looks great on you."
A few minutes later we look over and see that the husband and the lady who sold the shirt are now sitting in the car smoking pot while the wife (currently wearing the net shirt), sits in a lawn chair fondling herself, repeating, "Do you like my breasts?"
Things kept getting more uncomfortable until we finally ran away to the pub and killed some time until dark. We came back, went to bed, and the rain started. Luckily, the rain couldn't dampen the passion of their marriage as an argument in the wee hours of the morning resulted in the uber-inebriated wife starting the car and telling the husband he would be walking his ass home tomorrow. The only good news is that she decided to stay and argue some more rather than driving away in her condition.
It was a relief to have made it through the night with no major incidents ( the last we heard of the couple was "oh, that's great....you get to drink and I have to drive the whole way.") We headed out to do some more cragging. We cranked Laughing Crack and Easter Island which were fun routes and Octopus' Garden, which wasn't as great.
A crazy cliff hanger accident left us sitting still for 1.5 hours getting out of Squamish, but the rest of the drive was uneventful.
In summary, the rock was good, the Canadians are as screwed up as Americans, and yes, I am a crotchety old man.
Candies for the eyes: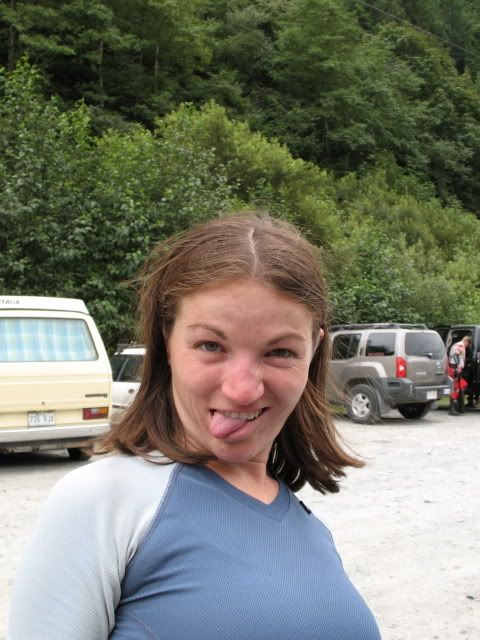 [/img]