experienced hiker of the climbing club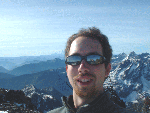 Joined: Wed Dec 04, 2002 6:39 pm
Posts: 1945
Location: Bashing Brush
Lots of new information in the first post.

I have set up a provisional list of cars and drivers. If it is very inconvenient for you to get from home to the Burke at 7am, contact your driver and make alternate arrangements.

I have set up group lists based on a rough gauge of experience and available equipment. Check next to your name to see which equipment you're on the hook for.