iSchool Student Snapshots: Amanda Hirst
By Heidi Andress
March 8, 2002
Amanda Hirst is a first year student in the MLIS program and is the President of ALISS.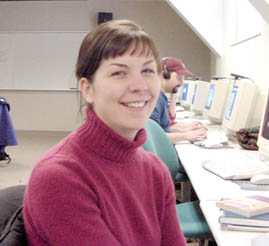 Silverfish: Amanda, you laugh a lot and you're always smiling. I was wondering if you're just delusional. Or is it that you just have a really healthy attitude about everything?
Amanda: Well, I try. I was actually just walking down the hallway and someone asked me what I was smiling about and I said, "I don't know. I've gone mad." It could be a combination of both.
Silverfish: Why don't you tell us a little bit about what you were doing before you got your acceptance to the University.
Amanda: I was working with the King County Library System. I was a page and then a library assistant sub.
Silverfish: Were you doing that before you thought of applying to the program?
Amanda: No, I moved out here with my husband for his job and my main criteria of locating to any new area was that there was a library program there so I could attend school. I didn't do much research as far as different programs. I just wanted to get that degree and become a librarian.
Silverfish: You know that's going to be printed, don't you? (smiles)
Amanda: Well, I didn't do a lot of research but the areas we were looking at all had good library programs and I knew that the University of Washington was in the top twenty. So I do feel good about moving out here. We moved out here in March of 2000 and I was biding my time until the next application process rolled around so I could apply.
Silverfish: And you got in!
Amanda: Well if I didn't, I wouldn't be smiling as much.
Silverfish: You could still have been a library assistant sub.
Amanda: I probably would have become very discouraged if I hadn't gotten in. I wasn't very happy with my career at that time and I thought that if I didn't get in, I would move on to something else. But it all turned out for the best!
Silverfish: What did you have for dinner last night?
Amanda: Indian food. I was fortunate and we ordered out. We have our standard order. I'm more into Indian food than my husband so he lets me take care of ordering because I like a variety of food and not just one dish. We had an order of vegetable samosas, nan, aloo mattar paneer, and vegetable biryani
Silverfish: In the personal essay you wrote for your application, what did you focus on in terms of your future career goals?
Amanda: My main interests were being a public librarian and adult reference. Well, in a public library it's hard to specialize so you do a little bit of everything which is one of those things that drew me to the job to begin with.
Silverfish: Now that you've been here for two quarters, have your career goals changed at all?
Amanda: No, I still want to be a public librarian.
Silverfish: And what are you taking next quarter?
Amanda: I'm taking 550 with Levy, 570 with Saxton and Public Library Advocacy (586) with Jacobs. That's just going to be awesome. I was saying to my husband the other day, I would love Deborah Jacobs' title of City Librarian. Isn't that a great title?
Silverfish: You are the recently elected ALISS president so is there anything coming up that you're super-excited about?
Amanda: Our main focus right now for spring is the end of the quarter party, aka the Spring Fling. I'm really looking forward to that and to planning it. I just really want to have a great party. I really do.
Silverfish: Here's a picture of my puppy. Is he not the most adorable puppy in the universe?
Amanda: He is!
Silverfish: Thanks, Amanda!
---
Submissions Requested
Are you interested in sharing your knowledge with the rest of the student body? Have you attended any conferences or taken an interesting or worthwhile class outside of the department? Would you care to review nearby bars for us? Send your Silverfish submissions to Ariel Johnson or John Buell.
---
Edited by Ariel Johnson and John W.N. Buell
Silverfish Web Design by John W.N. Buell